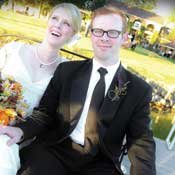 Family and friends blew bubbles as newlyweds Karson and J.J. walked hand-and-hand after their wedding ceremony, which they held in the home of family friends in Madison.
Stories this photo appears in:
Hitched
Karson Williams laughed at a joke on top of the Ironworks Building in downtown Jackson. She and J.J. Luther had come up to the roof to look at the stars ...