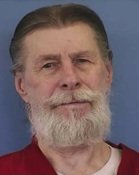 Gerald James Holland, 72, will be executed May 20.
Stories this photo appears in:
Yesterday, the Mississippi Supreme Court set a May 20 execution date for Gerald James Holland, 72, on death row for the 1987 murder of 15-year-old Krystal King. Holland's execution will ...
After the Mississippi Supreme Court denied appeals for two death row inmates Monday, Attorney General Jim Hood requested the court set execution dates for the two men. Paul Woodward has ...