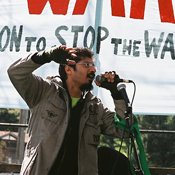 Shahid Buttar will be the guest speaker for "Cross-Pollinate: A Speaker Series" at the Jackson Community Design Center on Friday, where he will discuss government accountability as it relates to the war on terror.
Stories this photo appears in:
Person of the Day
As a college student in Chicago, Shahid Buttar sometimes would fish his next meal out of a trashcan. Often sleeping on the streets or couch surfing, Buttar found solace in ...