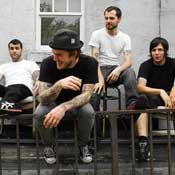 The Gaslight Anthem pays homage to Bruce Springsteen with its energy, but the band's exclusive sound could be the next evolution of New Jersey rock 'n' roll.
Stories this photo appears in:
Music
Bruce Springsteen casts a large shadow over New Jersey. Every rock band from the state needs to inevitably face comparisons to the man, no matter how similar or dissimilar their ...