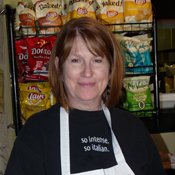 Debbie Rankin, owner of Congress Street Bar and Grill and Basils on Congress Street will help host the next "Downtown After Dusk" event on May 13 in front of her restaurants.
Stories this photo appears in:
Business
The success of last month's "Downtown After Dusk" event in the courtyard of Underground 119 has secured a new tradition in Jackson. Julie Skipper, one of the organizers, said today ...
Business
For the past two years, Tye's Restaurant and Bar in the Plaza Building on Congress street served as an after-work meeting place for professionals and fine-dining favorite among locals.