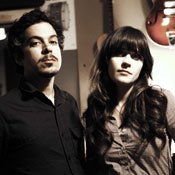 Actress Zooey Deschanel (right) has made a successful foray into the musical world as a singer with Mr. Ward (left), a success that has eluded others attempting a crossover.
Stories this photo appears in:
Music
There are many reasons for She & Him's "Volume Two" to be terrible. To begin with, the face of the group is Zooey Deschanel.