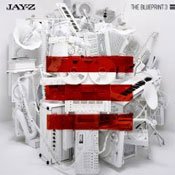 Jay-Z's newest album, "Blueprint 3," does not live up to the high expectations for it.
Stories this photo appears in:
Music
Perhaps the bar has been set unreasonably high for Jay-Z's "Blueprint 3." Invocation of 2001's "The Blueprint" alone sets expectations soaring. Add to its title the list of contributing superstar ...