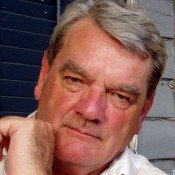 Holocaust denier David Irving decided to forego a visit to Jackson Wednesday after all—and appeared in Ridgeland instead.
Stories this photo appears in:
A knife fight broke out at a Monday book-signing for Holocaust revisionist David Irving in Florida. Two audience members battled it out near a crowd of guests at the author's ...
Interview
David Irving is guaranteed to cause a rumble wherever he goes—as he did in Jackson earlier this month after white supremacist Richard Barrett promoted his Oct. 21 presentation at City ...
UPDATED October 22, 2009
Holocaust Denier David Irving informed the Jackson Free Press that his public engagement, originally planned for City Hall at 6 p.m. Wednesday, was going underground at an undisclosed location, so ...
Holocaust refuter David Irving will appear in Jackson City Hall Oct. 21, according to attorney Richard Barrett, of Learned, Miss. Barrett, a self-avowed white separatist, sent out an e-mail this ...