Gov. Haley Barbour returned to Mississippi to run for governor after years in Washington, D.C., as a corporate lobbyist and a Republican operative. Photo by Jaro Vacek
Stories this photo appears in:
Governor Bryant; Speaker McCoy; ladies and gentlemen of the Legislature; and fellow Mississippians: Tonight marks the sixth time you have allowed Marsha and me to join you here to report ...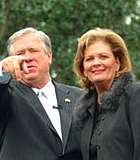 Cover
The big sign draped between two trees next to the Neshoba County Fair pavilion in August 1982 caused a lot of drama: "Happy Birthday, Senator Stennis."