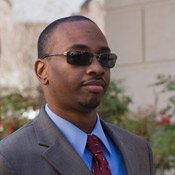 Jackson City Council voted to pay legal bills for former Mayor Frank Melton's bodyguards Marcus Wright, pictured, and Michael Recio for their 2007 state trial.
Stories this photo appears in:
Frank Melton
by Ward Schaefer January 21, 2010 Michael Recio and Marcus Wright, the former police bodyguards for the late Mayor Frank Melton, must pay $10,000 each in restitution for their roles ...
Frank Melton
The Jackson City Council agreed to finally pay attorney's fees for former city employees Marcus Wright and Michael Recio today. Former bodyguards of deceased Mayor Frank Melton, both men were ...
Frank Melton
A federal judge has sentenced former Jackson police officer Marcus Wright to one year of probation for his role in the 2006 warrantless destruction of a private home on Ridgeway ...