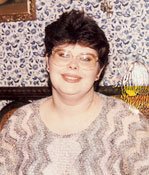 Adrienne Klasky Graham
Stories this photo appears in:
Domestic Violence
Also: Listen to Rep. Brandon Jones and Sen. David Blount talk about the stalking bill on JFP Radio.
Yesterday, the Mississippi Senate passed a bill that would make the governor's right to pardon convicted felons more accountable to their victims and to the communities where they committed their ...
Domestic Violence
At least three of six criminals getting relief from Gov. Haley Barbour killed their former or current wife or girlfriend.