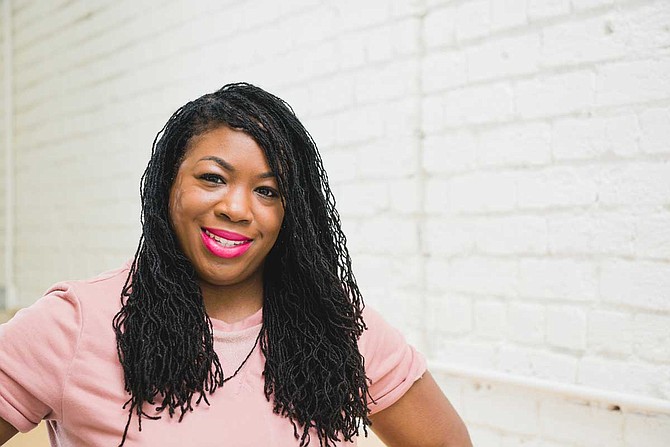 JACKSON — When New Orleans native Ashlee Kelly first arrived in Jackson in 2003 to attend Jackson State University, she struggled to find people to connect with.
"Most of the people I was friends with were also transplants," she says. "So I didn't know what to do, where to go, where to eat. That made it really hard to be here."
She received a bachelor's degree in political science in 2008, a master's degree in urban and regional planning in 2010, and a doctorate degree in public administration in 2017, all from Jackson State.
In 2018, Kelly attended a podcast event that 242 Creative co-owner Melvin Robinson hosted. During the event, he was impressed with her voice and style and suggested that she needed to host a podcast herself for African American women, Kelly says. But she had another idea. She had already created a Facebook page that catered to a group whom she referred to as "transplants": non-Jackson natives now residing and working in Jackson. After some discussion, she posed the idea to create a podcast centered around that concept.
"I know so many other people who are transplants (and) sharing those experiences, building community and giving recommendations to new transplants," she says.
The goal was to ease the transition for newcomers by offering information about the city through the experiences of others who had once been in their shoes—something that was missing when she came.
The first "Jxn Transplants" podcast aired on Oct. 28, 2018, and it quickly has become what Kelly imagined and more.
Each week, she interviews both non-native Jacksonians and natives to reveal their thoughts about the city. They discuss their experiences and why they made the decision to stay. Near the end of the show, the guests recommend their favorite places or events in the city and drop a piece of advice.
"There are a diverse group of people (from other places) who share the city with us, and it's kinda easy to miss unless you walk up to them and say 'Hey, where are you from?" says podcast producer Robinson.
Though in the beginning, Kelly featured some of the Jackson transplants she already knew, those friends began recommending others, and the list continued to grow. So far, the show has featured guests such as Robert Morris, host of the "Reality Breached" podcast, policy analyst Ercilla Dometz-Hendrix and Thomas Price, host of the 
"Token Talk" podcast, Senior City Planner Salam Rida and Natalie West, author of "50 Things to Do in Jackson."
However, Robinson says that you don't have to be well-known on the Jackson scene to be interviewed.
"You don't have to have a certain profile for us to talk to you. If you're from somewhere else and you want to come on and talk about your Jackson experience, you can," he says.
The show's goal is to become a "welcoming committee" of sorts for people moving to Jackson, he says.
"We would love to work with (Visit Jackson)," Robinson says.
"We would love to work and make it where if someone wants to find out something about Jackson, they can come to us, or if they know someone from a certain part of the country, and they know what their experience would be like there, then they could check us out."
Robinson and Kelly also hope that the podcast becomes a vessel for newcomers to meet each other and build community. Their goal is to host welcoming events, cultural celebrations, and field trips to local attractions and events that offer the chance for transplants to connect.
Kelly adds that the show has re-
affirmed for her why has remained here for more than a decade.
"It has a bit of a snarky, sassy kind of spin on it. So kinda like, 'I hate it here. Why are you guys still here? Why should we be here?' And through that process, it has really helped me see value in Jackson that I may have lost at one point," Kelly says.
For Jones, the show highlights the beauty of a city that often gets a bad rap.
'We want to be a voice for Jackson positivity," Jones says. "We are all in 
on Jackson."
Hear the "Jxn Transplants" podcast every Tuesday on SoundCloud, Spotify and iTunes. For more information, find JXN Transplants on Facebook, Twitter and Instagram.
Support our reporting -- Follow the MFP.