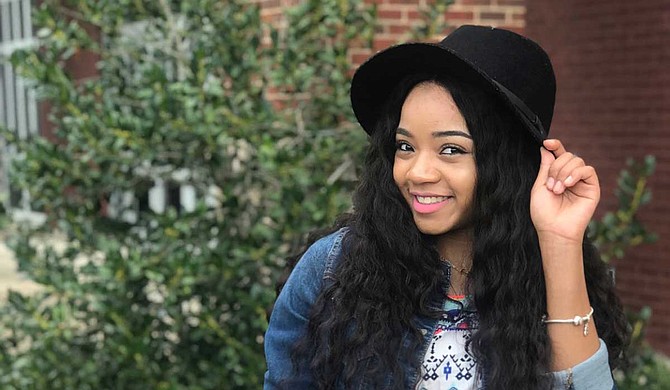 JACKSON — Those who follow the TV series "Bring It!"—a show about the Dancing Dolls, a Jackson dance group—will likely recognize the name Faith Simone Thigpen.
Thigpen, 18, starred in the show alongside her mother, Dana Roilton, in seasons two through five from 2016 to 2018.
The Jackson native started dancing at age 3. Singer and dancer Beyonce was her 
earliest inspiration.
"My mom told me she turned on Destiny's Child to calm me down whenever I would get moody or hyper," Thigpen says. "It always calmed me down. ... I've admired Beyonce throughout my entire life. She's been my role model. I love everything she's done for the industry."
Thigpen watched music videos and quickly began to pick up on the choreography 
and dance moves.
At age 3, Thigpen also started dancing at Emmanuel Christian Academy in Jackson. At age 5, she began attending Word of Faith Academy, where she was a cheerleader and part of the praise dance team throughout elementary and middle school. Also at age 5, she attended Adhiambo African School, also in Jackson, where she studied lyrical and African dance forms.
Thigpen entered Jackson Public Schools' Power Academic and Performing Arts Complex program in fifth grade, and studied ballet, jazz and modern dance.
She auditioned and made the Dancing Dolls dance team during her ninth-grade year at Murrah High School in 2015. A few months later, executives for "Bring It!" chose her to be on the show.
Thigpen joined the "Bring It!" tour company in summer 2016, stopping in cities including Philadelphia, Memphis, Dallas, Houston, Los Angeles 
and Atlanta.
After graduating from high school in 2018, Thigpen decided to attend the American Music Dramatic Academy in New York City. She recently completed her second year and plans to finish her final two years at the Los Angeles campus and get her bachelor's degree in dance. After graduation, she wants to perform on Broadway in New York City, and also has plans to start her own performing 
arts school. She also wants to own local dance studios in Jackson, then eventually branch out around 
the country.
Because of her hectic schedule, Thigpen is only about to come home during the holidays.
"It's always heart-warming when I come home, she says. "I want to thank my hometown, especially my family. The amount of support I receive from everybody is an understatement, ... (and ) my parents has always given me everything I've wanted and needed."
She hopes to retire as a great dancer, while being inspirational.
"I owe it to Jackson, because I've gotten so much love and support," she says. "I know I would not be where I am today without it."
For more information, follow Thigpen on Instagram or visit allthingsfaith.com.
Know a Jackson native who has left the state in pursuit of other opportunities? Email ideas for people to feature at [email protected].
Support our reporting -- Follow the MFP.