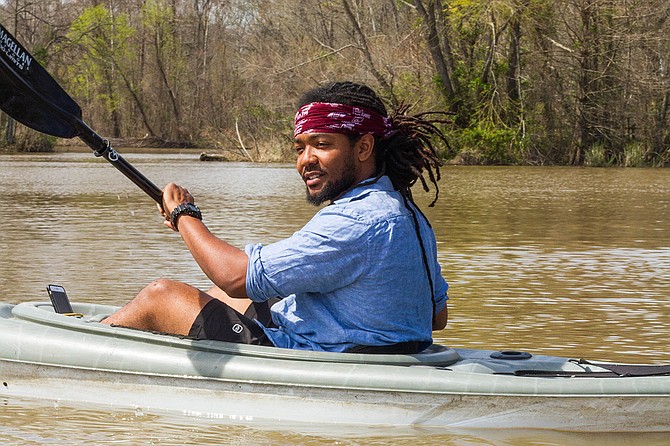 Christopher Lockhart, owner of Capital City Kayaks, says he has always enjoyed being out on the water. The 27-year-old Jackson native grew up kayaking during the summer and continued the hobby into adulthood. He started buying boats so friends could join him. Soon, he says, "I had a whole fleet."
Lockhart graduated from Murrah High School in 2008. He attended Hinds Community College and then Mississippi State University, where he received a bachelor's degree in biology education in 2012.
In 2015, he opened Capital City Kayaks as a way to share his love of kayaking with the community. He offers canoe and kayak rentals, as well as tours along local waterways such as the Pearl River and the reservoir.
Once people make an appointment with the business, Lockhart helps them plan their route and meets them at designated launch points along the water.
He says kayaking is a great opportunity to explore a lesser-known side of Jackson while enjoying the beauty of nature.
"When you are out on the water, it doesn't even feel like you're in the city," he says. "It's so quiet and peaceful."
Lockhart says he enjoys showing people his favorite spots and helping first-time kayakers get comfortable on the water.
"To see the smile on people's faces when they spot a turtle or other wildlife is great," Lockhart says.
He adds that most first-timers end up coming back and bringing their friends.
"It's a way to get people out of their comfort zones," he says.
In the winter, Capital City Kayaks is open on weekends. During the prime season, from May to September, it is open every day, which Lockhart says works perfectly with his schedule as a science teacher and track coach at Clinton High School.
"I want to show people that they don't have to travel to enjoy kayaking," Lockhart says. "We have beautiful natural resources and waterways that you can explore right here in Jackson."
Lockhart also helps organize cleanups along the Pearl River, working with Hinds Community College and other groups to help keep Jackson's waterways clean.
As a natural outdoorsman, Lockhart says his job doesn't feel like work. In the three years that he has been in business, he has acquired more boats and a bus to haul them and transport people to launch sites, but he says he is taking it "year by year."
"I definitely want to reach out to more people," he says. "I want to offer a different experience and get people trying something new."
Support our reporting -- Follow the MFP.