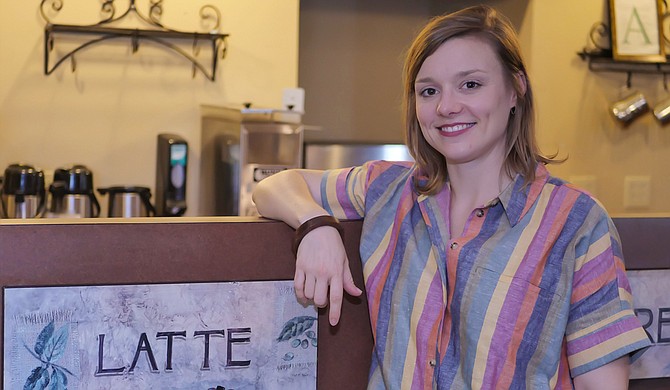 In the early afternoon on a Friday, Jordan Butler sat outside at Cups in Fondren, sipping on a coffee after spending the day working out the kinks of a grant application for Refill Cafe, a nonprofit workforce development cafe that will occupy the space that once housed Koinonia Coffee House just west of downtown.
Butler, who is Refill's project leader, says New Orleans-based Cafe Reconcile inspired business owners such as Mangia Bene co-owner Jeff Good and others in the community to start a similar project in Jackson because of the restaurant's positive outcome in New Orleans.
"What (they saw) was that Jackson needs more opportunities for people to get the training necessary to enter the workforce," she says. "The vision came from recognizing all of the benefits that a program like Reconcile has been for New Orleans in the 20 years it has been open, and how it can open a world of opportunities for Jackson."
Butler grew up in the Jackson area and moved to Little Rock, Ark., in 2014 to complete a three-year master's degree program at the University of Arkansas, graduating with a degree in public service and public health in 2017.
She was the program coordinator for SPORK!, a cooking program for kids in Little Rock from 2014 to 2017. Butler moved back to Jackson last year, which led to her introduction to Jeff Good and Refill Cafe in spring 2017.
The workforce training portion of the program is still in the planning stages. The project will also have classes for the trainees on topics such as sexual health, anger management, resume building and interview skills to prepare employees to handle the workforce.
Butler plans to meet with the Mississippi Department of Corrections in late June to discuss working with people who have a criminal record or have had run-ins with the law in the past. She is also currently in the process of meeting with organizations and establishments in hopes of gaining connections and support from the local Jackson community.
"There is definitely an interest among most nonprofits who are working to try to figure out how to better coordinate their services, so that we're not replicating services, (and) we don't all work in silos," Butler says.
As far as figuring out what those partnerships look like, Refill Cafe is looking for partnerships with services and service providers, as well as potential employers.
"Of course we'll work with the food and hospitality industry, the main reason for that being that those types of positions are reasonable entry-level positions where there is some room for mobility," she says. "We're targeting young adults who have either never had a job, never had a positive experience in the work place or who are not ready for the community college scene."
Butler hopes Refill Cafe's employees will use their time to get ready for work that will potentially lead to higher-paying jobs or a higher education. She is currently the only full-time staff member on the Refill Cafe project, but it has a few behind-the-scenes part-time employees as well, including consultant and external evaluator Emily Stanfield, and an accountant and a bookkeeper. As drafting of the operational plan continues, Refill Cafe will eventually hire more employees, specifically more employees for the building design work, as well as the actual restaurant and teaching the team.
Refill Cafe is operating under a grant from the W.K. Kellogg Foundation until the end of the year, and Butler and her team are currently in the process of applying for an implementation grant from the organization. While it is not 100 percent secured, Butler hopes Refill Cafe will prove worth the investment.
"They want to know that you are a sustainable organization," she says. "They want to see how we are going to be not be dependent on grant funding for the rest of our lives, which of course is the long-term goal.
"I think there is a real opportunity with this project to do something innovative, and there's a lot of potential about what it could do in Jackson. And as someone who grew up here and has not seen a whole lot of change, and wants a better future for this city, I'm really excited about what this project can offer to this city."
Refill Cafe plans to give young people in Jackson an opportunity to better themselves and build their resume, and to overall prepare them for the workforce that they might not yet be ready to handle.
Stanfield has similar hopes for what Refill Cafe could do.
"I think it's going to draw people to west Jackson, but also bring some pride to the community as well because there's going to be commerce and business in the area," she says.
For more information on the Refill Cafe, visit refillcafejackson.com or find the organization on Facebook.