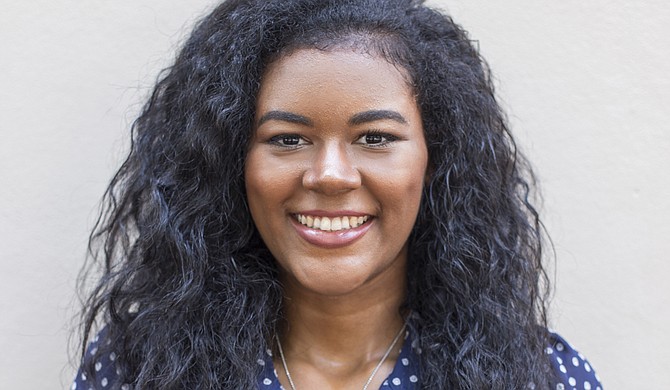 As a child, Devin Guillory was not interested in science, which says that she now blames on societal attitudes toward science, technology, engineering and math, or STEM, fields. At the time, she was reluctant to pursue a career in any of those areas.
"I feel like, just as a society, we are kind of trained to think that high, in-depth things like chemistry and biology are things you are supposed to not really like growing up," Guillory, a master's student in chemistry at Jackson State University, says.
Guillory wants to use scientific research to better the state and help other Mississippians learn to love science. At JSU, she spurs children's interests in science through activities such as making slime from glue. "Just little things to get them interested, where they think that science is something fun instead of something we are automatically supposed to hate," she says.
The Jackson native attended Holmes Community College from summer 2010 to December 2010 and Hinds Community College from January 2012 until that summer when she transferred to Jackson State University.
Guillory says that when she entered college, her dream career was to become a video-game developer. However, a pre-requisite chemistry class led to the realization that she really loved that subject, as well. Guillory says that even before taking the class, she always enjoyed balancing chemistry equations, which she calls "a puzzle."
Guillory received her bachelor's degree in chemistry from JSU in 2015. Her career trajectory, which she calls "somewhat medical," now involves the research behind what the clinicians are doing. Her research focuses on increasing efficiency in cancer treatment by targeting cancer cells with heat therapy. Unlike cancer treatments such as chemotherapy, which can kill both cancerous and non-cancerous cells, nanoparticles in heat therapy only target the cancerous cells.
After she graduates from JSU with a master's degree this July, Guillory will begin studying neuroscience at the University of Arkansas Medical Science Center in Little Rock for her doctorate degree. She says her ultimate goal once she completes her Ph.D. is to help Mississippians by researching both the positive and negative effects that early childhood trauma have on people later in life.
Through her research, Guillory says that she hopes to create more understanding of mental illness in society, and how things such as drug addiction, alcoholism, abuse and neglect create problems.
More like this story