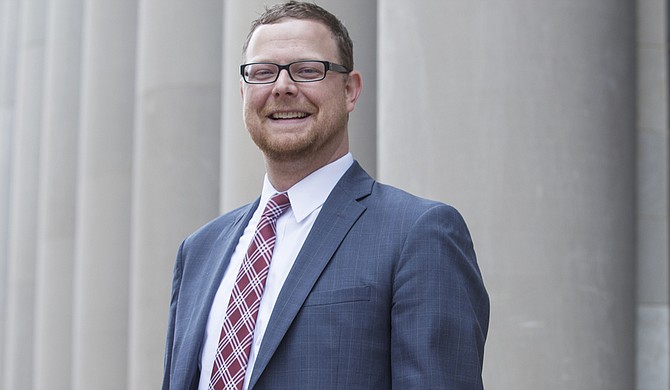 Thirty-one-year-old government-relations consultant Bryce Yelverton has dedicated 19 years of his life to helping inner-city kids through Calvary Baptist Church's ministry, His Heart. "Your ministry and your work starts right outside your front door," he says.
Clinton native Yelverton graduated from Mississippi College in 2008 with a bachelor's of science in mathematics. After graduating, he taught at Chastain Middle School from fall 2008 to 2011.
"I chose Chastain because I've worked with inner-city families through ministry," he says. After learning of a position opening at Clinton High School, he applied and got the job and began working there in 2011.
"What's interesting about my seven-year teaching career is that I've seen the most successful and the most struggling school districts," Yelverton says.
In 2013, he was diagnosed with Hodgkins lymphoma, which was 15 years after his father's same diagnosis.
Yelverton says he decided to keep teaching while enduring cancer treatment.
"I wanted my students to know cancer didn't equal death," he says. "Hodgkins lymphoma is one of the most receptive cancers to treatment. I had an 85 to 88 percent chance of it going away."
In May 2014, after doctors said that Yelverton's cancer in remission, he resigned from teaching. In August 2015, he decided to join his father's consulting firm, Yelverton Consulting.
The two-man consulting firm provides services to transportation, county and municipal government, tax collectors and assessors for the state of Mississippi, businesses and more, Yelverton says.
"I get to be an advocate," Yelverton says. The firm worked on passing the oral parity legislation, which helped classify chemotherapy pills the same as intravenous chemotherapy to lower the cost tremendously for cancer patients.
Although his job keeps him busy, Yelverton says he still makes time to serve with His Heart ministries. He attended the graduation of two Jim Hill High School seniors who are a part of His Heart.
Yelverton says his support system is his family, which includes his wife of five years, Carly, their dog, Walter. "My family and church are most important to me. My heart has always had a place in Jackson, Clinton and generally Mississippi," Yelverton says. "I don't think I'll ever move. Once you start investing in students and kids in this area, it's hard to leave them."
Yelverton says people find their passion to invest in, and his is Jackson.