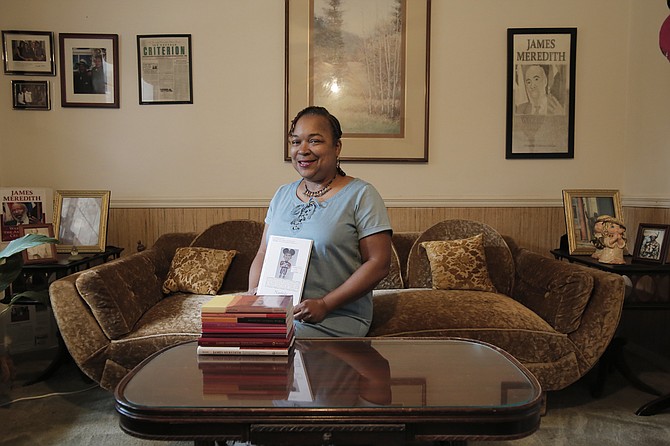 While Meredith McGee was growing up in Jackson, the second-generation writer says her family had a love for reading and the written arts. From her uncle, James Meredith, a writer and the first African American to integrate the University of Mississippi, to her mother, writer Hazel Meredith Coleman, who encouraged McGee to read, it was almost inevitable for her to have her own career in the written arts.
For the last 13 years, she has been the owner of typing and printing company Typing Solutions. There, she helps people create their final drafts of speeches, school essays and manuscripts, among other things. She says that one of the perks of the business is the access it gives her to constantly learning new things.
"I love to read. It was a part of our entertainment growing up," McGee says.
With only a handful of bookstores and libraries in town, McGee, 53, believes Jackson is a "book desert." The desire to garner more books here led her to launch a second business, local publishing company Meredith etc., in 2013. With only a small percentage of publishing companies in the country having an African American owner, McGee prides herself on being able to bring that entity to Jackson.
"I want to help other people get into the marketplace," she says. "I had 16 rejection letters (while trying to publish a book), and there's a lot you have to do to a manuscript to get it ready for publishing."
Since opening Meredith etc., McGee has published 12 books, including some she has written herself. When she is not working to help others find their writing groove, she works as a contributing writer for the Jackson Advocate. Her work there led to inspiration for her most recent book, "Nashida: Visits the Smith Robertson Museum." While writing a story on the museum, McGee learned that many of the students from the public schools do not visit it. To McGee, the museum's importance is the positive history of local African American culture that it houses.
McGee believes intellectual development and understanding the history of the community through books, documentaries or film are the stepping stones to rebuilding Jackson. Through producing books, McGee says she is doing her part to ensure that people have access to that information.
McGee's family has three generations of writers in her family, the third of which includes her great niece, JaNiaya, who wrote "Saving the Manatees."
Support our reporting -- Follow the MFP.