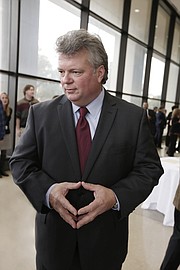 A couple of weeks ago, the governor sent out an op-ed with omissions that could only be considered as "alternative facts." I am defending the state from suits regarding mental health and feel compelled to set the record straight on the real facts and answer why there seems to be a need for alternative ones.
First, the facts: The Governor said Tennessee has only 2,000 mental health workers, compared to Tennessee also employs thousands more through hundreds of private contracts. He failed to mention that the duties, which the the Mississippi Department of Mental Health carries out under one umbrella, are divided in Tennessee into two departments, the Tennessee Department of Mental Health (1,875 employees) and Tennessee Department of Intellectual and Developmental Disabilities (1,935 employees). Since Mississippi has 14 community mental-health centers across the state that counties and grants fund, and Tennessee has locally funded programs, these apples-to-oranges comparisons of employees could go on and on.
A better comparison between the states would be the most recent analysis of state-by-state per capita mental-health spending, which showed Tennessee paid $87.48 per capita for mental-health services. Mississippi spent $55.95 per capita. Tennessee is also discussing Medicaid expansion, while our state is not. The Mental Health America report the governor cites points out that access to mental-health care in Mississippi is low due to our failure to expand Medicaid. Last legislative session, I called on the governor and legislative leadership to provide DMH with an additional $12 million to keep us from getting sued, but they instead refused to provide the additional $12 million and cut the DMH budget by $8 million. We were promptly sued.
In his op-ed, the Governor calls for "gimme some of that reform" and put him in charge. He is already in charge. He appoints all nine members of the DMH board and 11 members of the Department of Health board. Since 2004, Republican governors have been in charge. The professionals they have appointed to these boards are telling the governor and legislative leaders the truth, that these agencies have already been decimated by budget cuts.
Why would the governor publish an op-ed with such gaping omissions? The goal is to hire directors of these agencies who are afraid to tell the people the truth—that their agencies do not have the funds to fulfill their duties under state and federal law. The working people who pay the vast majority of Mississippi taxes deserve to know the truth. A second motive is to fire all the state workers so that the governor can give the money to his corporate friends to privatize the services. The third motive of this trifecta, in the Republican leadership's push for privatizing all of government from education to retirement, is to appease their corporate masters and receive corporate campaign contributions in return. One need only look at the headlines from the private prison scandals to see the risk in privatizing some government services.
In order to accomplish this trifecta, they must fool the people who have no knowledge of government and believe it is over-bloated. Blogs and talk radio have allowed "alternative facts" to go unchecked. This alternative-reality world is dangerous to democracy, our state and our world.
As always, it's about the money and who gets it. The Republicans in control of it all—Gov. Phil Bryant, Lt. Gov. Tate Reeves and Speaker Phillip Gunn have chosen to give away our state treasury in huge corporate tax cuts to huge out-of-state corporations, then try to choke what little is left out of state government to give to their corporate benefactors in-state contracts. It is all about the money—campaign contributions. How else could a lieutenant governor in little Mississippi have $4.3 million in his campaign account?
If the working people and those who own businesses in this state don't call their legislators and ignore these alternative facts, our economic downturn will continue at an even more rapid pace.
We have a duty to protect the least among us: those suffering from mental illness. Ask your legislator what Jesus would do.
Jim Hood is the attorney general of the State of Mississippi.
Support our reporting -- Follow the MFP.