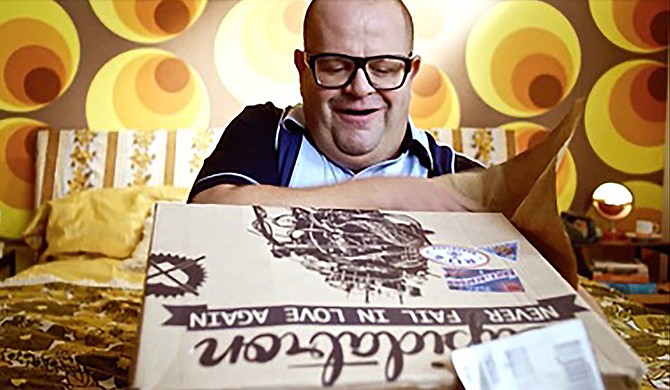 We've all had the thought, "What if?" when it comes to romance. In the short film, "The Five Wives & Lives of Melvyn Pfferberg," director and lead actor Damian Samuels brings this question to light in a whimsical fantasy-comedy. After Melvyn is jilted at the altar, he stumbles upon an infomercial selling the "Cupidatron," which promises to help customers select a successful partner with only a handshake. Of course, things go awry for Melvyn when the device malfunctions.
The film takes a light-hearted jab at modern dating and romance, demonstrating the protagonist's relationship phases with various women that he meets while at a speed-dating event. Viewers will follow Melvyn's romantic rollercoasters through playful first dates, first forays together in his geometric 1960s-style bedroom, his and his significant others' weddings, and even parenthood.
The short, which is mostly silent, is visually dazzling, with its bright jewel-tone colors and vintage design—more than enough to keep you entertained as the quick-moving plot forward. Viewers won't want to blink during this love adventure.
"The Five Wives & Lives of Melvyn Pfferberg" screens during the "The Five Wives & Lives of Melvyn Pfferberg & a Buffet of Other Comedies" film block on Saturday, April 8, on screen B from 3:15 p.m. to 5:15 p.m.