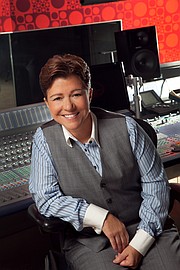 Mississippi is the soil of my soul. My childhood in Waynesboro gave me the foundation to grow into a decades-long career songwriter, producer, and collaborator with artists like Patti LaBelle, Natalie Cole and Aretha Franklin. I wouldn't be the artist I am today without the great Magnolia State.
That is why I'm so pained to see oppression constantly rear its head in the South. We've been fighting racial discrimination, poverty and anti-LGBTQ oppression for decades—most recently against legislation that discriminates against the LGBTQ community. This year, North Carolina and Mississippi passed so-called "religious freedom" bills that allow businesses to refuse to serve anyone they disagree with because of religious beliefs.
I can't imagine going to sleep at night, thinking I have the right to tell someone else how to live their life. I try to treat others the way I want to be treated, and I think it's time our elected officials do that, as well.
In Georgia and North Carolina, we've seen corporations pressure legislators to get rid of bills that restrict the rights of LGBTQ people. It was a big victory when U.S. District Judge Carlton Reeves blocked Mississippi's law from going into effect this summer—but there's a long way to go.
The sad part is that it feels like nobody expects better from Mississippi. The attitude around the country seems to be, "Of course; business as usual," for a state that's been on the wrong side of history more than once.
But my Mississippi is not full of hate. Some of the most incredible, loving people in the world have roots here—artists, writers, musicians, activists. America and the rest of the world may only see discrimination and oppression, a state without progress. But I know we're better than that.
As someone who knows and loves Mississippi, I cannot stand by as this pattern continues to happen. I refuse to be OK with discrimination, with hate. I refuse to be OK with, "That's just the way it is in Mississippi."
Gov. Phil Bryant used his pen to sign HB 1523, and I used my pen to write a song expressing my sorrow. I was so upset that the song "My, My Mississippi" welled up from the depths of my soul, like an old spiritual rising up from the fields of Mississippi.
"My, My Mississippi" is a call-and-response song in which I ask my beloved home state, "Don't you wanna heal your past?" It's a song of grace and of warning: Let's not repeat history.
At the TEDWomen Conference in San Francisco in October, a choir of 160 members including the San Francisco Gay Men's Choir and the GLIDE Memorial Methodist Church choir sang "My, My Mississippi" to tremendous response. It marked the kickoff of a campaign I'm starting with GLAAD and the Human Right Campaign, #MyMississippi, to bring national attention to legislation restricting the rights of LGBTQ people.
MyMississippi is a way for all people who have called the Magnolia State home to make their voices heard on why LGBTQ equality is important. We are inviting Mississippians to share photos, videos, artwork and messages about their hopes for Mississippi. On Dec. 11, the campaign culminates on the capitol steps in Jackson and with a march to the governor's mansion to let Gov. Bryant and our legislators know that hate doesn't have a place in my Mississippi. The song "My, My Mississippi" is also available for purchase on iTunes. The proceeds will benefit HRC's Project One America, which aims to advance LGBTQ equality in the South.
It is time for the amazing people in Mississippi stand up to the officials they elect and say no more. If we ever want to progress as a state, it's time to take our brothers' and sisters' hands and move forward together.
Mississippi native Tena Clark is a composer, producer and entrepreneur. Read more coverage of HB 1523 at jfp.ms/lgbt.
Support our reporting -- Follow the MFP.