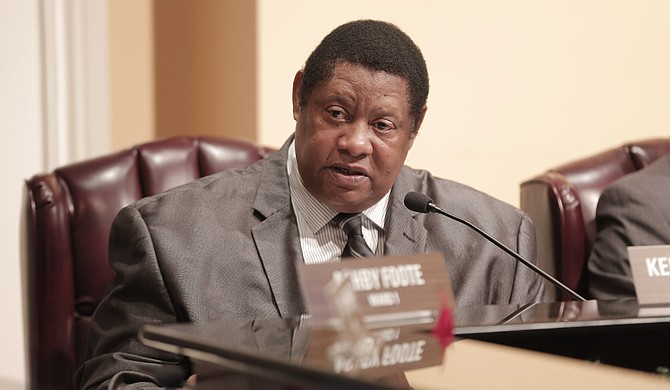 JACKSON — Ward 3 Councilman Kenneth Stokes will introduce an ordinance to make discharging a weapon within the city limits punishable by jail time and mandatory fines tomorrow during the regular meeting of the Jackson City Council.
The ordinance is an adjustment to the current city code that currently makes discharging a firearm in the city a misdemeanor. The Jackson Free Press reported two weeks ago that Jackson Police Department Chief Lee Vance is frustrated that Mississippi law prohibits his officers from charging people who discharge firearms into the air inside the city limits with a felony.
"Because right now it's a misdemeanor. Right? If I caught somebody out there just firing a gun into the air ... right now it's a misdemeanor," Vance told the Jackson Free Press last summer. All the gunshots, he said, cause "fear and discomfort" even when they don't result in injury, he added.
Vance said that most gun violence in Jackson is the result of disputes, whether sudden or due to ongoing vendettas, or "beefs"—a fact that matches national trends. "People are a bit too frivolous about discharging a gun, whether it's in the air or at somebody. So, and I'm not here to debate the gun laws, alright, but the fact of the matter is is that the state of Mississippi has some of the most liberal gun laws in the country, and the only thing you have to do in order to possess one is be 18, not be a convicted felon, and it'd be a legal weapon, and your vehicle is seen as an extension of your arm, so, I think I would be dishonest if I said that did not lend itself to the amount of guns that we have on the street."
Matt Steffey, a professor of law at Mississippi College, said that the City of Jackson does have the authority to increase the penalties involved with the misdemeanor for firing a weapon, but that there is a limit without a change in state law (See Miss. Code Ann. § 45-9-53).
"Can they up the penalty for an ordinance violation? Yes," Steffey said. "Can they make it a felony? Perhaps not."
Steffey said during a phone interview this morning that the felony process steps outside the municipal authority, as Vance described. The felony distinction then begins with jail time longer than a year of confinement and is handled by different governing bodies. An example he used was that misdemeanor jail time is in the county jail, while felony charges would end up in a state facility like Parchman.
"They can, within this framework, they can increase the penalties and the fines, but I don't see any authority where they can make it a felony," Steffey said.
Reed Martz, an attorney who specializes in Mississippi gun laws, agrees. "The city is permitted to create an ordinance," Martz said today. "(Stokes) doesn't have to get state permission, but he does have to follow state law."
Email city reporter Tim Summers, Jr. at [email protected]. See more local news at jfp.ms/localnews. Read more about crime prevention at jfp.ms/preventingviolence. Deputy News Editor Maya Miller contributed to this report.
Support our reporting -- Follow the MFP.