MURFREESBORO, Tenn. (AP) — When Steven Gibbs couldn't afford the fees demanded by the company supervising his probation, he wound up in jail. When Gibbs — who had been arrested for driving on a suspended license — failed a drug test the company charged him to take, he was jailed again.
"Half the time I'm scared to go outside the door," said Gibbs, 61, a former construction worker who lives in a $200-a-week motel room because his disability pay and wife's fast-food wages don't leave enough for a deposit on an apartment.
"I don't trust none of them anymore," he said, in late January. The company continued charging Gibbs fees until last week, when a judge agreed to put him on a new plan, supervised instead by the court, to pay down fines he owes the county.
Here in Rutherford County and in more than 1,000 courts in about a dozen states, including Mississippi, probation for misdemeanors is a profit-making — and increasingly contentious — venture. While those with cash to pay fines often avoid supervision, poor offenders can be snared in debt and punishment. The practice has sparked widening debate and numerous lawsuits demanding change.
"The unfortunate part of our judicial system is once you get caught up in it, it's like a rat wheel you can never get out of because of some of the fines and the probation," says the local sheriff, Robert Arnold.
A federal judge recently barred Rutherford County from jailing people solely for non-payment, citing a 1983 Supreme Court decision that courts must consider people's indigence. The mayor has recommended the county take over the job.
For-profit probation is praised as a way to uphold justice and improve collection of fines while saving money for governments. Critics, though, call it unfair, saying probation funded entirely by charging offenders piles costs on people who can't pay and jails them for offenses as innocuous as traffic tickets.
"You don't criminalize poverty," says Hub Harrington, who, as an Alabama circuit judge, called one city's private probation program a "judicially sanctioned extortion racket" when he shut it down in 2012. "If you turn the courthouse into a profit center, this is what you get."
---
The debate over how to punish crime largely overlooks nearly 9 million Americans on probation, nearly half for misdemeanors or smaller infractions.
Many cities and counties have outsourced supervision of lesser offenders who can't immediately pay to companies, who charge supervision fees averaging $40 to $45 a month. Most collect court-imposed fines. They also charge for orientation, drug tests and counseling sessions. Some probationers are charged to participate in litter pickup or other assignments.
"The system is designed to sell as many probation services as possible," says Jack Long, a Georgia attorney who has brought 18 suits against one company, Sentinel Offender Services.
Steven Queen, Sentinel's director of Georgia Services, disputes the criticism.
"There is no intent, practice, behavior or policy that in any way promotes the exploitation of any participant, regardless of financial position," he wrote, responding to questions from The Associated Press.
People can show financial hardship, and courts can sentence them to alternatives such as community service, Queen says. But probation matches those guilty of offenses like domestic violence or drunken driving with court-ordered counseling, he says.
Privatized probation lets government focus resources on felons while saving taxpayers millions of dollars, says John Prescott, president of the Community Corrections Association of Georgia, an industry group, in a written response to questions.
But in Harpersville, Alabama, the probation company harassed people they knew couldn't pay, including a mentally disabled man who'd been involuntarily committed several times by a probate judge, Harrington says.
"They jailed him and were extorting money from his family to let him out ... and the only income he had was Social Security disability," he says.
Some industry veterans question the extent of abuses.
"I just don't know that they're as widespread as they're made out to be," says Dale Allen, chief probation officer in Clarke County, Georgia. Allen has worked for both public and for-profit probation operators. Some people simply want to escape fines, he says.
Many governments contracting with probation companies are in a financial bind, says Chris Albin-Lackey, author of a 2014 Human Rights Watch report on for-profit supervision. But judges and companies too often fail to consider offenders' ability to pay, he says.
"You see a lot of cases where people are trying to explain to their probation officer why they honestly cannot afford to pay," he says, "and essentially the response from the probation officer is, 'I don't want to hear that. You don't pay that, I'm going to throw you in jail.'"
---
At The Journey Home, an outreach center for Murfreesboro's homeless, director Scott Foster is used to seeing regulars arrested for public intoxication or trespassing. Most wind up on probation, and often in jail.
Marguerita Scroggins, who lives in the woods but uses the center's mailing address, says after her arrest last fall for possession of a crack pipe, she brought a jar with $3 in change to the probation company. The officer, who wanted $45 each week for fees and fines, told her they didn't take cash. Scroggins' only income is a $744 monthly disability check.
"You tell the judge you couldn't pay but that you're trying to do better, you're trying to make ends meet, and so they basically start your probation over again," Foster says. "So essentially, for our very indigent folks, we've almost set up a debtor's prison here in 21st century suburban America."
A few blocks away, Charlie Barker, arrives at the probation office before it opens. At 35, he's been on probation for 12 years. Eight arrests for driving on a suspended license and another for drug possession, each brought more probation, fines and fees. Barker used to work construction. But driving to work got him rearrested, he said.
Barker says when his mother gets a tax refund, he plans to pay the last $500 he owes. But he wonders if he'll have to keep paying for drug tests or supervision fees until probation expires in September.
"Just $500," he says. "But I don't know what they're going to try to pull. I wish you could just pay it off and be done with it."
---
Lawsuits have spotlighted tensions between companies and offenders.
One company, Judicial Correction Services, withdrew from Alabama last year after lawsuits, including one by the Southern Poverty Law Center accusing it of racketeering and extortion, saw dozens of towns cancel contracts.
JCS told the AP it "provides an important service to those municipal governments that do not possess the resources to enforce the terms of the court's probation and fine rulings."
A suit brought on behalf of Gibbs and six other Tennessee probationers, alleging racketeering and violation of due process, has cast scrutiny on Rutherford County and its probation company, PCC.
In an interim ruling in December, U.S. District Judge Kevin H. Sharpe concluded people who violated probation terms often had their supervision extended, incurring more fees they couldn't pay, trapping them "in a pernicious cycle for years on end."
The county and company deny the lawsuit's allegations. Both declined to comment.
In Georgia, where more than 30 companies supervise more than 140,000 probationers, a scathing state audit found the system was poorly run, lacked transparency and was abusive to some poor offenders.
State reforms that took effect last summer cap the amount for-profit companies can charge and ban jailing those who show they're unable to pay. Companies must disclose the number of offenders they supervise, and the fees and fines collected. The firms don't have to make public their profits and losses.
Sarah Geraghty, a lawyer at the Southern Center for Human Rights, which has sued three companies, says the reforms are a first step.
"We still have a system in which there is a profit motive to keep people on probation and to keep them there for as long as possible," she says, "and that has not changed."
Copyright Associated Press. All rights reserved. This material may not be published, broadcast, rewritten, or redistributed.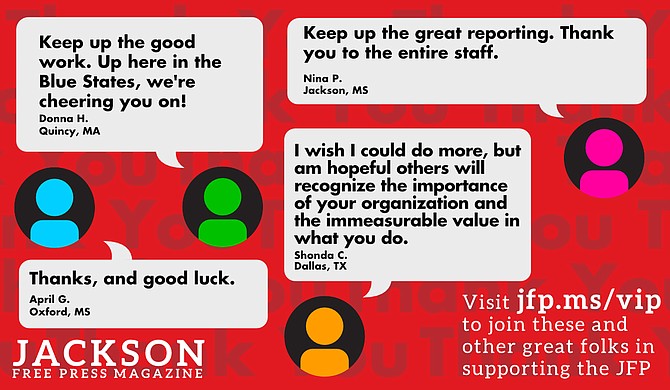 Thanks to all our new JFP VIPs!
COVID-19 has closed down the main sources of the JFP's revenue -- concerts, festivals, fundraisers, restaurants and bars. If everyone reading this article gives $5 or more, we should be able to continue publishing through the crisis. Please pay what you can to keep us reporting and publishing.