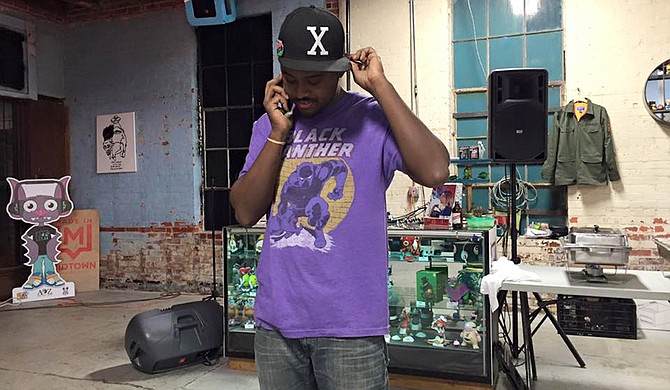 Phillip Rollins was sitting in the bleachers at Madison Central High School's auditorium on March 7, looking at his phone, when suddenly he noticed people pointing and shouting: "Get him out!" He was seated in the top right corner behind the podium at the Donald Trump rally earlier this week when he remembered why his mother was so worried before he left.
Rollins, a 31-year-old Jackson native, is the owner of local comic book and record store Offbeat, as well as a local deejay (DJ Young Venom). He had heard that Trump was scheduled to speak at his old high school in Madison on Monday, March 7, so he braced himself for what he had seen on the news. He wanted to witness a Trump rally first-hand.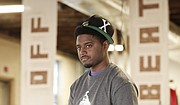 He was wearing what he wore most days: a T-shirt, jeans and a hat. His shirt had the Marvel comic-book character Black Panther on it, and his black X cap has the Offbeat logo on the side.
As crowds gathered outside Madison Central High School and filed into the auditorium, security searched each person after he or she walked through metal detectors.
"The only place to sit down was the bleachers, which were behind the podium, so, my friend (Austin Lee, who deejays as DJ Brik-a-Brak) and I sat at the top corner, and I looked down and noticed (my friend)," he says.
Rollins made his way down the bleachers to talk with his friend, who was at the Trump rally for work. Mid-conversation, someone tapped Rollins on the shoulder and said, "Hey, you need to leave."
He was confused and didn't understand why he was being asked to leave because he was at the rally to observe, not to protest. The Trump liaison, a short, white man dressed in a suit, told him: "You can't be in here with this racist attire on. You're in here with a Black Panthers shirt and a Malcolm X hat on."
"The Black Panthers character was created by Stan Lee, a Jewish, white man," Rollins told the Jackson Free Press. "This is not racist, and plus, this is a cartoon character that is going to be in a movie in May, 'Captain America: Civil War,' who is also a member of the Avengers."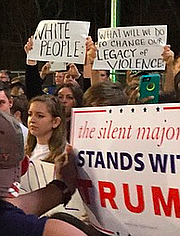 Young, mostly white protesters face off in a heated argument outside the Trump rally at Madison Central.
The Trump liaison continued to question him about his Malcolm X hat, to which Rollins said, "It's just a hat; freedom of speech, man."
Rollins made his way back up the bleacher stairs, sat back down with Lee and started looking through his Facebook newsfeed.
"I just felt everybody pointing at me, and that's when a Mississippi Highway Patrol (officer) comes and tells me, 'You need to leave; they want you out now,'" he says.
Suddenly, everyone that was seated around Rollins was shouting. The Trump liaison made his way back to Rollins and stood beside the officer. Rollins obliged and followed security to the auditorium floor, where he was then pushed for stopping when a crowd blocked his path and told to not cause any trouble, he says.
"I turned around and asked, 'Why are you pushing me? I'm walking. I can't walk any faster,'" Rollins says.
At this point, he made eye contact with a white man in the crowd, and they shared nods and both held their fists in the air simultaneously.
"It shows (cowardice), and that (Donald Trump) really doesn't understand what free speech is," Rollins says. "Particularly, he kicks out protesters, but none of these people are a real threat to his life. They come with signs or chanting #blacklivesmatter."
This is one of many incidents in which officials have removed non-violent protestors or even bystanders from rallies for Trump, a candidate who claims that he is going to open up libel laws, so when members of the media write purposefully negative statements about him, he can sue.
"My mom told me not to wear the hat," Rollins says. "She didn't want me to get arrested or hurt. They viewed me as a big enough threat, even though I didn't say anything."
Callsto the Mississippi Highway Patrol, the Madison City Police Department, the Madison Mayor's office, as well as the head of the Madison Republican Party, were not immediately returned.
Also read Onelia Hawa's report on a heated debate that occurred outside the Trump rally at Madison Central.
Support our reporting -- Become a JFP VIP.
The news business has changed dramatically in the past two years, and we need your help more than ever to keep bringing you important stories about Jackson and the Metro. Become a JFP VIP with an annual membership or you can Sign up as a monthly supporter. Thanks for anything you can do to empower our journalism!