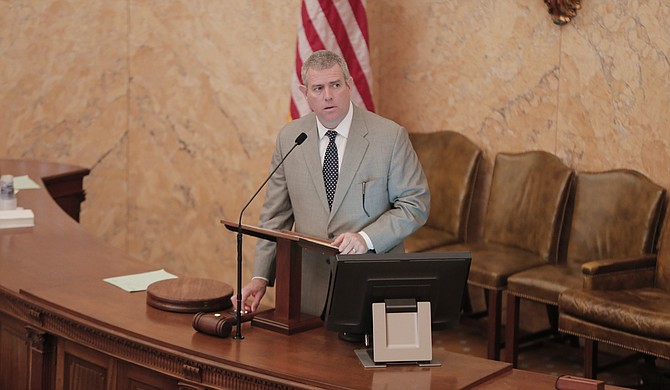 JACKSON, Miss. (AP) — Mississippi House Speaker Philip Gunn, who became the first prominent Republican last summer to call for Mississippi to remove the Confederate battle emblem from its flag, said Monday that if the flag design is going to be reconsidered, it should be put on a statewide ballot just as it was 15 years ago.
"People voted on it in 2001. I don't think it's right for us to undo what they did," Gunn told reporters at the Capitol. "The people should decide for themselves."
His latest statement reflects what Republican Gov. Phil Bryant has been saying for months, and it came just before Tuesday's deadline for House and Senate committees to consider general bills.
Several flag bills await debate, and they fall into three broad categories. Some would remove the Confederate emblem. Some would strip state funding from colleges and local governments that refuse to fly the flag with the Confederate emblem. And, one would designate separate but equal state flags — the current banner and a magnolia flag adopted in 1861 as Mississippi was seceding from the union.
After black worshippers were killed in a Charleston, South Carolina, church last June and the white man charged in the slayings was seen in online photos holding the rebel flag, Gunn, who's a leader in his local Baptist church, said: "As a Christian, I believe our state's flag has become a point of offense that needs to be removed."
Since then, however, Gunn has mostly been silent on the issue.
The Charleston shootings prompted South Carolina legislators and Gov. Nikki Haley to remove a Confederate battle flag from the Statehouse lawn.
Gunn said Monday that he has been working to see if at least half of the 122 House members can agree on a flag bill. Republicans hold a three-fifths majority. Asked if he expects consensus, Gunn said: "I doubt it. I don't know. Give me until tomorrow and we'll see."
Most, but not all, House Democrats support removing the Confederate emblem from the flag, said House Democratic Leader David Baria of Bay St. Louis.
"I thought it took a lot of courage for the speaker to come out this summer and essentially agree with what I just said, that we need to make a change," Baria said Monday. "But it would take more courage to actually promote legislation that would do that. And I don't think that there's anybody in the Republican leadership over there now that has that kind of courage."
Senate President Pro Tempore Terry Burton, R-Newton, said last week that he will wait until Tuesday to decide whether to keep flag bills alive in that chamber.
Rival groups are gathering signatures on flag petitions. One would enshrine the current design in the state Constitution, and the other would remove any trace of Confederate symbolism from the banner. The earliest either proposal could be on the ballot is 2018.
The Mississippi Supreme Court ruled in 2000 that the flag, while widely used, had not been officially recognized by state law since code books were updated in 1906. In the fall of 2000, a flag commission held several contentious hearings. Legislators put the matter to a statewide vote in April 2001. By a nearly 2-to-1 margin, voters chose the old flag over an alternative with circles of stars representing Mississippi as the 20th state.
Copyright Associated Press. All rights reserved. This material may not be published, broadcast, rewritten, or redistributed.
Support our reporting -- Follow the MFP.