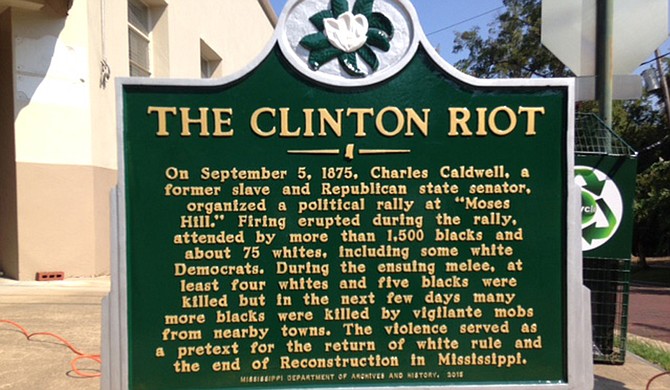 On Sept. 4, 1875, more than 2,000 former slaves crowded onto the grounds of Moss Hill, a plantation in Clinton, Miss., that had turned over to a Republican doctor after the South lost the Civil War.
It was during Reconstruction, when Republicans—the earlier version of the party that freed the slaves and supported black rights—were briefly in control of the state, to the chagrin of the Democrats who had lost the war and the right to maintain and extend slavery. The black families were there, along with some whites, for a barbecue and political rally to get newly minted voters excited to vote. The Republicans even invited a Democrat to speak.
Mixed into the crowd were men called "White Liners" from nearby Raymond—one of the South's many violent militia groups that formed to disrupt Reconstruction and take back the rights the federal government had given black people after the war. They were carrying concealed weapons.
After the Democrat, state Senate candidate Amos R. Johnston, spoke, the first Republican took the stage: Capt. H.T. Fisher, a former Union officer and the editor of a local Republican newspaper.
One of the white men quickly heckled him, "Well, we would have peace if you would stop telling your damned lies!"
An argument started that soon devolved into violence with white men lining up in a formation, pulling out their weapons and firing into the crowd. At least five African Americans died, including two children, as well as three white men.
The violence continued for weeks after a mixture of local whites and White Liners from surrounding counties formed a posse to terrorize local black people, including taking Square Hodge from his home, killing him and dumping his body in a swamp.
Historians estimate that from 30 to 50 black Mississippians died in the ongoing manhunt and massacre.
Tears and "Amens" flowed from the small fellowship hall at Northside Baptist Church, a historically white church in Clinton, on Sept. 26, 2015, as about 100 people gathered for a day-long service of remembrance and truth-telling concerning the events surrounding the Clinton Riot of 1875 at Moss Hill.
Among those who addressed the faith communities was Melissa "Missy" Jones, a white member of Northside, the editor of the Mississippi Historical Society's Mississippi History Now and a visiting history instructor at Mississippi College. Jones has been working for the past six years to fill in gaps in the traditional historiography of Moss Hill, which has tended to place responsibility for the massacre on militant whites from outside Clinton (the "White Liners").
Jones' work shows how the massacre grew out of a well-organized network of fear and violence among white Clintonians and Hinds County officials rather than being a spontaneous reaction by a few "outsider" militants in Clinton to make trouble.
The City of Clinton commemorated the events on Sept. 3-4, with the unveiling of a new historical marker and a public symposium on history and race relations.
Jones ended her presentation by recalling the words of Stan Wilson, her white pastor, who once told her: "Reconciliation occurs as people begin to tell the same story." Jones told the audience she hoped her work, and the memorial events as a whole, will play some small part in helping Mississippians better tell their shared story.
Editor's Note: The above story is edited to correct editing changes, including adding in a missing word and to reflect that it may not have just been white men from Raymond who did the initial shooting.
Support our reporting -- Become a JFP VIP.
The news business has changed dramatically in the past two years, and we need your help more than ever to keep bringing you important stories about Jackson and the Metro. Become a JFP VIP with an annual membership or you can Sign up as a monthly supporter. Thanks for anything you can do to empower our journalism!