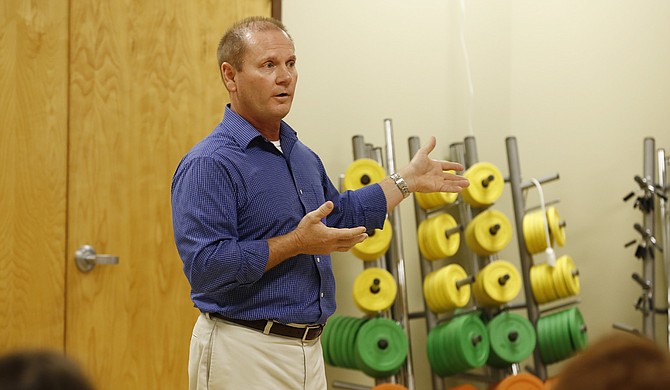 "We are so much more than just a gym," said David Reeves, president and CEO of the Metropolitan YMCAs of Mississippi, to a crowd of 40 to 50 members gathered at the Deville Plaza Y in north Jackson last Thursday.
"It's sad when we close a gym, but it can also be an opportunity for the community to come together, and with their support help us to be somewhere else."
Exactly one month before the meeting, the building's New York-based owners informed Reeves and his staff that their lease was being terminated, with no option to renew. With Planet Fitness, a national health-club chain, wanting to move into the former Sports & Co. next door, Reeves described it as a simple "business decision for the owners (of the building)," who stand to gain "twice the space and a lot more money" from the corporate fitness giant moving into the Plaza.
"We don't own this facility," Reeves reminded the room, "so we really don't have a lot of empowerment to say anything else about that."
Having laid bare the cold but clear bottom line, Reeves, a native Texan who has worked in YMCA leadership for almost 30 years, opened the floor to member concerns. Many revolved around hopes of finding a new YMCA location in the nearby area, as well as the Metro Association's stated plans to continue that search while investing more heavily in the state-of-the-art Flowood facility and especially the older, less renovated Downtown Y.
Calls to Madison Properties, the Brooklyn, N.Y.-based owners of the 162,378-square-foot Deville Plaza, were not returned by press time.
Attendees were also concerned about the status of the nearby Briarwood Pool, which the Y doesn't own but supports.
Jill Morgan, whose family has used the Deville Y since it opened in 2004 and the Briarwood Pool for many years before that, channeled the group's general hesitation about reallocating resources and membership downtown. "If they pool all their money there, how are they going to afford to fix up another location for northeast Jackson?" Morgan asked.
Beyond the obvious difficulties of location and routine many members would face in moving their membership, a few attendees with Downtown Y experience seemed agitated at the very idea of working out downtown, describing the grounds and equipment there as dirty, neglected and unsafe.
Board member Brad Wilkinson reassured everyone that the search for a new location within roughly five miles of the Deville Y would continue as diligently as possible, even as he acknowledged the financial constraints placed upon locally funded organizations like the Y. Similarly, Reeves' tone shifted back and forth from a realistic facing-of-the-economic-facts to cautious optimism about the potential both for reinvigorating the Downtown Y and for the future development of new facilities.
The YMCA is a national not-for-profit organization with 2,700 YMCA locations across the U.S. Regional associations, such as the Metropolitan YMCAs of Mississippi, govern groups of local outlets. The individual associations raise funds for individual clubs through membership dues, program fees and fundraising.
A better parking lot, spaces for pilates and spinning, updated equipment and new child-watch areas are just a few of the renovations the Y hopes to accomplish downtown. Yet Reeves was clear that any real, lasting change depends on the metro area's membership base. With dedicated fundraising and follow-through from Jackson members, Reeves said, "we can make that Y whatever the community wants it to be."
Reeves also said that since he became president and CEO in 2004, the association has reduced its deficit substantially.
With two young, sandy-haired boys in tow, Britney Moss spoke up in favor of the administration's proposal. "My mom was pregnant with me at the Downtown Y," Moss said. "I've been (raised) through it, and I love it."
Deftly responding to the anxieties older members expressed, Moss challenged the community to "take a chance" on the Downtown Y while also encouraging Reeves and company to proactively incorporate the desires and needs of the paying membership base into renovation and development decisions.
"The community has to feel like it's being lifted up, too," Moss said, calling for suggestion boxes and more transparent administrative processes to help reach that goal.
The bottom-line economic realities threatening the long-term sustenance and health of metro-area YMCAs are mitigated, but not fully solved, by the base support Reeves and Moss hope for during this transition. The major financial difference is that even though the northeast Jackson facility has been successful enough to turn a marginal profit over the years, the metro association owns the downtown facility. This frees up capital that would otherwise be spent on rental contracts, which must either compete with the Planet Fitnesses of the world or be secured in less-developed areas where such mega-chains won't go.
Whereas absentee ownership leaves all contract negotiations subject to the shifting sands of market value, local ownership allows for a different, more nuanced kind of investment. "When you have an outside landlord that doesn't live here and doesn't see the dynamic, they just see the bottom line," said Kim Sewell, another longstanding YMCA member.
"And in five years that bottom line will be totally different. It may go back to how it was, and the Y could get back in at the cheap rate at which they began. It's just a cycle with not having local owners. It's a Catch-22."
Jill Morgan agrees, citing disconnected owners as well as steadily increasing property values as factors in the kind of development north Jackson has seen over the past decade. "We saw the (local) hardware store get pushed out of Maywood Mart, so I think all of that's a driver."
The owners of Maywood Mart could not be reached by press time.
President Reeves believes that community support, fundraising and investment can and will help area YMCAs survive and thrive in coming years. Yet as CEO, Reeves does not begrudge property owners their right to keep their bottom line front and center.
"If I owned something, and I'm able to help my bottom line and feed my family better, I'm probably going to do that," Reeves said. "I don't know that it's a disconnect, I think it's just part of business."
Email business writer Scott Prather at [email protected]
More like this story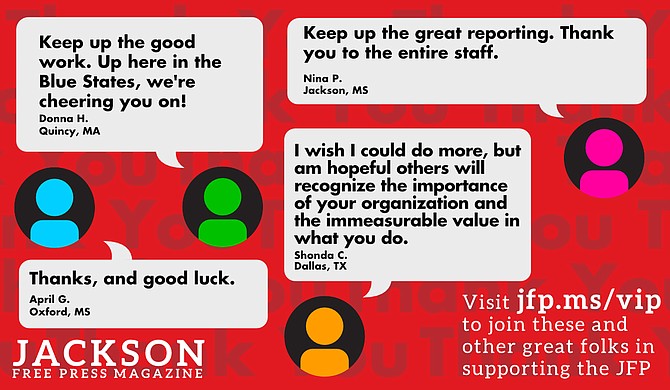 Thanks to all our new JFP VIPs!
COVID-19 has closed down the main sources of the JFP's revenue -- concerts, festivals, fundraisers, restaurants and bars. If everyone reading this article gives $5 or more, we should be able to continue publishing through the crisis. Please pay what you can to keep us reporting and publishing.