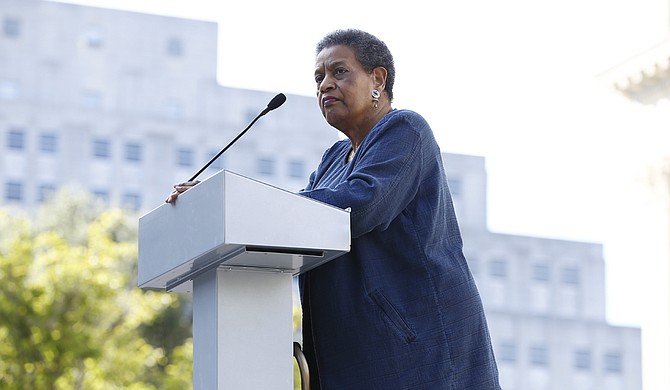 JACKSON, Miss. (AP) — Civil-rights leader Myrlie Evers-Williams, Mississippi-born rapper David Banner and a prominent South Carolina lawmaker are calling on Mississippi to remove the Confederate battle emblem from its state flag.
About 400 people took part in a change-the-flag rally Sunday outside the Mississippi Capitol. No alternative design was proposed, but rally leaders said the flag is racially divisive. Three men holding large flags with various Confederate emblems watched the rally from a distance across the Capitol lawn.
The emblem—a blue X with 13 white stars, over a red field—has been on Mississippi's flag since 1894, and voters chose to keep it in 2001. But the massacre of nine black worshippers in June at a church in Charleston, South Carolina, has renewed the debate about the public display of Confederate symbols.
Police said the mass shooting in Charleston was racially motivated, and the suspect had previously posed for photos with the rebel flag.
Republican state Rep. Jenny Horne of South Carolina said Sunday that Mississippi is hurting its own economy by keeping the battle emblem on the state flag.
"It is a new South. The economic development opportunities that Mississippi is missing out on—you don't even know it, but it's costing all citizens jobs," said Horne, who gave an impassioned speech in July as South Carolina lawmakers voted to remove a Confederate battle flag from the Statehouse grounds in Columbia.
Horne on Sunday wore a lapel pin with a photo of her friend and colleague, state Sen. Clementa Pinckney, who was the minister of Emmanuel AME Church and was among those killed June 17. Horne said South Carolina removed the Confederate flag from its place of prominence because of tragedy. She said she's "cautiously optimistic" that Mississippi will do the right thing and change its flag.
Critics say the Mississippi flag is a divisive reminder of slavery and segregation and doesn't represent a state where 38 percent of the 2.9 million residents are black. Supporters say they see the Confederate emblem as a symbol of history and heritage.
Evers-Williams was national chairwoman of the NAACP from 1995 to 1998 and is the widow of Medgar Evers, the Mississippi NAACP leader who was assassinated outside their family's Jackson home in 1963. At the rally Sunday, she noted that Confederate Gen. Robert E. Lee had distanced himself from Confederate symbols after the South lost the Civil War.
"If a former Confederate general recognizes the divisiveness of a symbol of disunity, we must do so, also," Evers-Williams said.
Banner said Mississippi hurts itself by failing to fully recognize its troubled history, and flying a state flag with the Confederate battle emblem is an insult.
"What was the Civil War fought over?" Banner said. "Be honest. Slavery."
Despite widespread discussion of the flag in recent months, including rallies by people supporting it, there has been little movement to make a change. Republican Gov. Phil Bryant and Lt. Gov. Tate Reeves say if the issue is reconsidered, it should be done by voters rather than by legislators. Some prominent politicians, including the Republican speaker of the state House and both Republican U.S. senators, said after Charleston that Mississippi should adopt a different flag that could unify the state.
A Jackson resident, Sharon Brown, said Sunday that she will start gathering signatures soon for an initiative she hopes to put on the 2018 statewide ballot. Her proposal would remove all Confederate references from the flag.
Copyright Associated Press. All rights reserved. This material may not be published, broadcast, rewritten, or redistributed.
Support our reporting -- Follow the MFP.