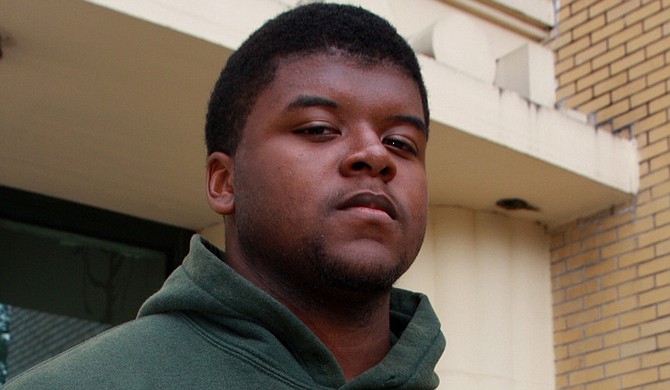 MCCOMB, Miss.—Monique Gilmore, who directs school and community relations for the McComb Public School District, enthusiastically greeted students at a school celebration last month, placing green Mardi Gras beads around their necks while proclaiming: "Here comes another scholar star!"
Gilmore clapped and smiled as principals called out the names of top performers in this southwest Mississippi city of 14,000. Parents snapped cell phone photos as if attending a concert of their favorite singer.
Throughout the ceremony, as primary- and middle-school students walked to the stage to receive recognition, the dominant presence of black boys in the lines was accentuated by their smiles as they returned to their seats with beads. But by the time McComb Superintendent Cederick Ellis called high-school seniors to the stage, not one black youth walked up.
The glaring gap was all too apparent. Where had all the black boys gone?
There wasn't a single black male senior among the students who had maintained an A average for three consecutive nine-week periods. This absence provided another reminder of the failure of schools in Mississippi to improve the academic performance of black boys, despite last year's efforts from the Coalition of Schools Educating Boys of Color, a Boston-based group with a mission to improve the social, emotional and academic development of boys and young men of color.
It's not that progress hasn't been made: McComb High School moved from a grade of F to a C within the state's accountability system last year. But the graduation rate at McComb High is still eight points less than the state's average of 74.5 percent. And its high school drop-out rate of 24.5 percent is more than 10 points higher than the state, where it is 13.9 percent.
It's not yet known how many of the black males who entered McComb High School four years ago will cross the stage at graduation and pick up diplomas this month, but the most recent statistics provide a frightening glimpse of failure. Of the black males who entered high school in the 2007-2008 school year, according to the state, only 55 percent graduated or received a high school diploma, certificate of completion or a GED within five years, compared to 83 percent of white males.
McComb provides a close-up example of the stark disparities that remain in the educational performance of blacks and whites in Mississippi schools, which haven't outgrown a legacy of segregation and racism. One glaring example: In 2014, black students in Mississippi averaged just 16.5 on the ACT, compared with 20.8 for white students. The national average for all test takers last year was 21.
Mississippi's black boys are also overrepresented in special education and are less likely to take college-level Advanced Placement tests. The state's persistent disparities are symptomatic of a national problem recognized by President Barack Obama, who in 2014 launched his "My Brother's Keeper" initiative, which aims to improve outcomes for boys and young men of color.
In McComb, history has strongly influenced how schools serve blacks. The Civil Rights Movement and the end of legally sanctioned segregation met bitter and violent resistance from white groups in the county.
During a two-month period in the early 1960s, there was so much incendiary violence against civil rights groups that McComb became known as "the bombing capital of the world." More than 50 years later, the city's five public schools remain segregated. Of the 2,743 students, 89.25 percent are black; just 8.6 percent are white. Meanwhile, the city itself is 31 percent white and 66 percent black, according to U.S. census data.
Many white parents send their children to the predominantly white North Pike School District, even though they live in McComb, said Ellis, the McComb school superintendent. North Pike is 66 percent white and 32 percent black. Other white families choose Parklane Academy, a private, predominately white K-12 Christian School, he said. North Pike's 2013 graduation rate of 76 percent is almost two points higher than the state average and 10 points higher than McComb's.
"There has been an out-migration of the haves,'' Ellis said. "Everybody who thinks that another school system, because of the population they serve, can provide a better education than the McComb School District, they do that."
A City in Transition
Named after New Orleans railroad baron Henry Simpson McComb, this city's fortunes followed the rise and fall of the railroad. Like many small municipalities, McComb hasn't replaced the industry that gave it a name.
Today, McComb moves along two distinct tracks, one black and the other white. The black unemployment rate of 14 percent is more than double the white rate of 6 percent, according to American Community Survey data. White households earned approximately $36,400, while black households earned about $29,200. Both groups earn less than the U.S. average of $53,000, a gap that has existed for more than a decade. Manufacturing remains the largest industry in Pike County, where McComb is located; the retail and service industries round out the main outlets of employment.
McComb has fought hard to improve its public schools. Some of the district's progress stems from a concerted effort beginning in 2009 to boost its then-wanting graduation rate of 63 percent. Although numbers indicate that black achievement, overall, is significantly lower than white, the district decided to focus reform efforts specifically on the performance of black males.
The need for a focus on African American males remains. Overall, Mississippi's black males graduated at a rate of just 51 percent for the 2012-2013 academic year, compared to 63 percent of white males, according to the Schott Foundation for Public Education, which, in a report titled "Black Lives Matter," drew on multiple data sources to estimate and publish more complete graduation rates than those the state presented. The report also revealed huge discrepancies in black and white suspension rates: Some 17 percent of black students were suspended in Mississippi in 2012-2013, compared to just 7 percent of whites.
Outside Support
Aware of the disparities, school leaders in McComb sought ways to help improve student performance and black male outcomes, in particular. Eventually, they decided to get in touch with COSEBOC, a membership organization that has become a leader in the education of black boys. McComb paid $3,500 to join the group.
COSEBOC held its first-ever national conference at Mississippi's Jackson State University last June, gathering hundreds of experts from across the U.S. to attend workshops and discuss COSEBOC's standards, which include ways to meet the needs of black boys in everything from test preparation to curriculum and college enrollment. COSEBOC relies on specific tools, training and standards developed in partnership with New York University's Metropolitan Center for Urban Education.
In 2009, under the leadership of then-Superintendent Therese Palmertree, McComb became the first district in the state to adopt COSEBOC standards.
"At first, the standards were a set of lofty goals," said David Bickham, the consultant with whom the McComb School District and COSEBOC contracted for $7,500. "It wasn't until the district went through real training at the Jackson State gathering did they make real operational sense."
School officials were shown ways to make the school environment more supportive of black boys, in a program that examined everything from guidance counseling and school culture to the cultural relevance of the curriculum.
In McComb, the COSEBOC guidelines are being introduced as the state's principals and teachers are struggling to keep up with new academic and professional standards that seemingly change every year. The organization's director, Ron Walker, believes the extra effort is worth it.
"While superintendents are held accountable to state academic standards, there should be additional standards that support boys of color," Walker said. "Our standards raise different questions that may not be asked in the day-to-day curriculum."
'One Superintendent at a Time'
Mississippi educator Rhea Williams-Bishop believes last June's gathering in Jackson "elevated the conversation and raised valid questions about the significance of black male achievement,'' and says she promotes COSEBOC's standards via her work as executive director of the non-profit Center for Education Innovation, based in Jackson.
Still, Williams-Bishop can't point to any policy changes at the state level that resulted from the gathering. And without the state's endorsement, the most a district can do is encourage better teacher training.
In one effort to boost black male achievement, the board of Alignment Jackson—a nonprofit that works with public schools in Jackson—brought together university faculty, lawyers and other leaders to develop and form ninth-grade academies within each public high school in Jackson. The group identified the need to focus on ninth-grade students and created a plan to reorganize schools to help make that happen.
Williams-Bishop said COSEBOC standards are being introduced in schools throughout Jackson via the district's Cultural Competence/Relevance Committee, which she chairs. Walker of COSEBOC sees this as progress.
"Of course policy change is the goal," Walker said. "We're just not there yet, but we have several district leaders at the table. We're getting buy-in, one superintendent at a time.''
Is Change Going to Come?
That might not be soon enough for Mississippi, which, along with Louisiana, has the highest proportion of young adults aged 16 to 19 who are considered "disconnected''—they are not in school or working—according to the Kids Count Data Center, a project of the Annie E. Casey Foundation.
The report found that with 12 percent, Mississippi has some 22,000 disconnected youth. If all these youth were in the same school district, it would rank as the third largest district in the state.
That number is far too large, says Donna Harris, an independent researcher in Rochester, N.Y., whose work focuses on how students progress from kindergarten through 12th grade. "We need to look at how schools' policies and practices push students out of schools,'' Harris, a former faculty member at the University of Rochester Warner Graduate School of Education and Human Development said. "It's too easy for us to say it's the parents and the kids that are causing the disappearance."
Most people refer to students who leave school prematurely as dropouts. Harris says too many students are actually pushed out because they are bored, miss too many classes or lack social and emotional support.
'Dreams and Hopes'
Lakeivion Isaac, a junior track and field star at McComb High School who hopes to be an engineer, believes the training he got when he attended a COSEBOC conference in Durham, N.C., as an eighth grader in 2012, made a difference in his life.
"I want people who know me to say 'I went to school with the person who made that car,'' said Isaac, an honor student who is on the superintendent's advisory board.
Robert Lamkin, Isaac's current principal, credits COSEBOC with giving students a larger worldview. At the 2012 Durham conference and again at the 2014 event in Jackson, they had a chance to meet university presidents and top professionals, while attending seminars on college admission, he said.
"For Lakeivion, and the others who went, there was a newfound awareness of who they were as African American men," Lamkin said. "You could tell their eyes were exposed to something much larger than what McComb has traditionally been."
The impact of COSEBOC and its standards on students who attended the conference inspired Lamkin to create Men on the Move, a college exposure and mentoring program that takes students of varying academic abilities on college tours and also introduces them to local leaders in McComb. Some 62 McComb students are in the program now, he said.
The research is mixed on whether mentoring programs effectively keep students on track for graduation. However, Isaac, who is a member of Men on the Move, believes the program will help boys like him.
"It's not normal that you'll see black men in such leadership positions," Isaac said. "It's not tradition in McComb. It gave me dreams and hopes to do what they're doing."
James Brown, who was Isaac's principal at Denman Junior High when he attended the Durham conference, said he would love more of his students to have the extra support and guidance COSEBOC training provided. "Lakeivion is the exception," Brown said. "But he shouldn't be.''
Lamkin said he will stay focused on black boys and the obstacles they face, and keenly feels their absence from senior pictures of the district's highest academic achievers.
"We want to set the stage of what our kids view being African American is," he added, noting proudly that Isaac will graduate fourth in his class. "It's only a matter of time before they break the top."
This story was produced by The Hechinger Report, a nonprofit independent news organization focused on inequality and innovation in education.
Support our reporting -- Become a JFP VIP.
The news business has changed dramatically in the past year, and we need your help more than ever to keep bringing you important stories about Jackson and the Metro. Become a JFP VIP with an annual membership or you can Sign up as a monthly supporter. Thanks for anything you can do to empower our journalism!