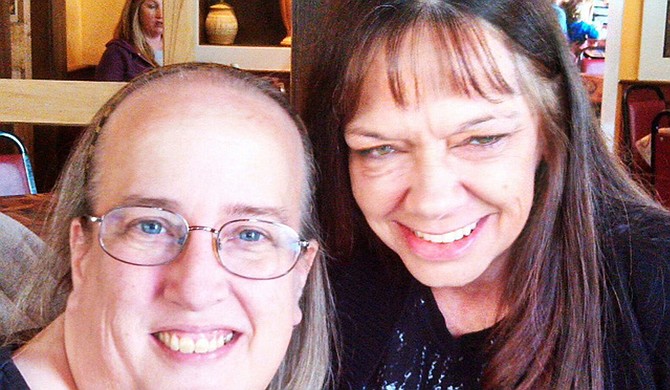 Fifteen years ago, Jim Stewart's wife, Ginna, ended up in a wheelchair because of her spinal bifida.
The day she was born in Jackson, April 7, 1965, doctors told her parents, Alma and Walter Whittington, that, she would never be able to walk or talk.
"Her parents told the doctor, 'You don't know how much faith we have,'" Jim says.
Ginna started walking with braces when she was 18 months old, and she ended up being the only one in her family with a college degree. She graduated from Droughns Business School, which was located in Jackson at 502 North St., in 1985 with an associate's degree in administrative assisting. Jim, an Ohio native, met Ginna in 1991 when he was working as a safety director for trucking company Ozark Motor Lines.
"One of my drivers was next-door neighbors with a gentleman who used to work for Ginna," he says. "Her family had Dixie Dental Supply in Jackson, and they bought out a company (Merck) in Memphis, Tenn., and she went up there to help run the office. The two guys ... invited us for a blind-date kind of thing, and we stayed together ever since."
They married Nov. 14, 1992. In July 2007, the couple purchased Candy's Confections, originally located in Fannin Market. After moving the store to Flowood's Magnolia Marketplace in 2011, Jim changed the name to Fat Cake Guy, but he closed the business July 2014 because of his and Ginna's bad health. For a few months, he worked at Table 100 (100 Ridge Way, Flowood, 601-420-4202) as its pastry chef before taking over the kitchen at Bonny Blair's Irish Pub after Kitchen Manager Danielle Treadway got in a car accident.
In November 2014, doctors diagnosed Ginna with an aggressive form of bladder cancer. Doctors started chemotherapy in January, but after they saw that it was doing more harm than good, they stopped the treatment.
In addition, Ginna had heart issues and pressure sores on her buttocks from sitting in a wheelchair for years. Before surgeons performed bladder surgery, Ginna's cardiologist wanted to do heart surgery. But before the heart surgery, her wounds had to heal. A wound-care specialist said they wouldn't heal. Ginna received care in her home for a while, but went to the University of Mississippi Medical Center hospital a few weeks ago. A few days later, she went into hospice care, where she passed away April 12.
When Ginna first went into the hospital, Jim and Jacquelynn Pilcher, who does media for Bonny Blair's and is also a Jackson Free Press contributor, began planning a benefit motorcycle ride. After Ginna's death, the ride turned into a memorial.
Jim says that when Ginna was confined to a wheelchair, the couple bought a wheelchair van. He totaled the van in February and was waiting for the insurance check.
When Ginna went to the hospice, she told him, "Don't spend that money on another wheelchair van because I'm never going to be in one again. You get what you want."
"She made me go buy a (motorcycle)," Jim says. "... She was the sweetest woman that ever lived. Always in a good mood, always had a smile on her face, never had anything bad to say about anybody. People loved her a lot, and we're just trying to honor that."
Event Details
The ride is Saturday, May 9. The ride is $15 per rider and $5 per passenger. Though it is a motorcycle ride, Jim says anybody can participate, whether they're in a car, scooter, go-cart or any other type of transportation. Registration begins at 10 a.m. that morning. At noon, participants will ride from Bonny Blair's Irish Pub (1149 Old Fannin Road, Flowood, 769-251-0692) and go to The Watering Hole (306 Walnut Road, Carthage). From there, participants will ride to Ratliffe Ferry, to McB's (815 Lake Harbour Drive, Ridgeland, 601-956-8362), and then back to Bonny Blair's. The event will have raffle prizes (tickets are $5 or five for $20) of gift cards from local restaurants such as Katherine's Steakhouse (6800 Old Canton Road, Ridgeland, 601-956-2803), McB's, One Block East (642 Tombigbee St., 601-944-0203), Underground 119 (119 S. President St., 601-352-2322), Bonny Blair's and Capitol Grill (5050 Interstate 55 N., Suite F, 601-899-8845). Participants can also win prizes such as a Yeti cooler and others. The memorial ride begins with a sausage-and-pancake breakfast at Bonny Blair's at 8 a.m. Participants can donate any amount of money to eat at the breakfast. For more information, find Bonny Blair's on Facebook.
Support our reporting -- Become a JFP VIP.
The news business has changed dramatically in the past year, and we need your help more than ever to keep bringing you important stories about Jackson and the Metro. Become a JFP VIP with an annual membership or you can Sign up as a monthly supporter. Thanks for anything you can do to empower our journalism!