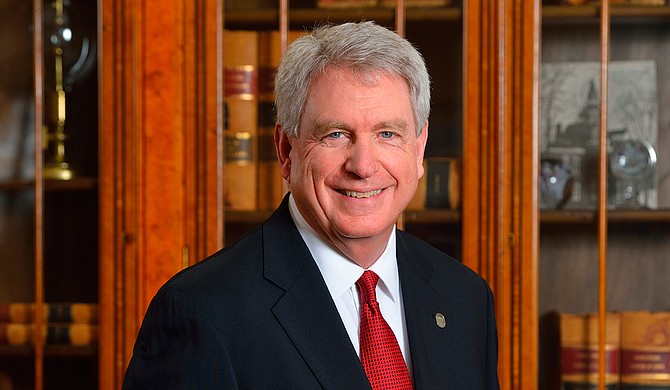 JACKSON, Miss. (AP) — Negotiations continued on a possible resolution that would retain University of Mississippi Chancellor Dan Jones, said former Gov. William Winter, who has been acting as a go-between.
Such a move would reverse last week's decision by the College Board to cut ties with him. The board said it had lost confident in Jones' ability to manage finances for the university's medical complex, but did not otherwise have any reason not to renew his contract. Jones' supporters say he has led the school to record enrollment and fundraising, and many are talking about a cancer-fighting device called a gamma knife to sum up why he should stay.
WHAT HAPPENED WITH DAN JONES?
In a series of meetings late last week, Mississippi's 12-member College Board told Jones that they didn't want to renew the 66-year-old's contract, which expires in September, after he'd been on the job for almost six years. Board members made the decision days after Jones returned to work full time from lymphoma treatment, saying they had concerns about contracting and business operations at the University of Mississippi Medical Center in Jackson, 150 miles south of the Oxford campus.
WHO IS UNHAPPY ABOUT THIS?
Faculty, staff, student and alumni organizations have passed resolutions calling for Jones to be re-instated, and more than 2,000 people rallied against the College Board decision Wednesday in Oxford. Jones has also picked up endorsements from Ole Miss sports figures including Archie Manning, former chancellor Robert Khayat and former Netscape CEO and university donor Jim Barksdale. A foundation has said it will withdraw a $20 million pledge for a science building if Jones isn't retained, and some lawmakers have threatened a major overhaul of the College Board's powers and structure.
WHAT DOES A GAMMA KNIFE HAVE TO DO WITH THIS?
A gamma knife is not a knife at all, but a machine that delivers finely targeted doses of radiation to treat brain tumors and other neurological conditions without cutting the skull or dosing the entire brain with harmful radiation.
An accounting review found the medical center agreed to buy a gamma knife as part of a package of goods and services for which it paid $7.9 million. The university paid in advance, even though state law at the time barred such advance payments, and it was never installed after other hospitals sought to block the medical center's attempts to attain permission from state health officials to install the device. The accounting review also found some payments weren't properly approved by trustees under rules requiring all contracts over $250,000 to get a board vote.
IS THE UNIVERSITY STILL GOING TO GET THIS DEVICE?
The medical center plans a construction project sometime next year to install a gamma knife at the Jackson Medical Mall, where many other cancer treatment activities take place. Officials say that one benefit of the delay is they'll get a newer model for the same price.
WHY ARE PEOPLE TALKING ABOUT THIS?
Many Jones supporters have latched onto the gamma knife as an example of what they see as nitpicking complaints by trustees that overlook Jones' larger accomplishments. Oxford musician Tad Wilkes, who performs under the name Moon Pie Curtis, rolled out a song Tuesday titled, "Dr. Jones is Going to Cut You with His Gamma Knife." He posted the song online.
Copyright Associated Press. All rights reserved. This material may not be published, broadcast, rewritten, or redistributed.
Support our reporting -- Become a JFP VIP.
The news business has changed dramatically in the past year, and we need your help more than ever to keep bringing you important stories about Jackson and the Metro. Become a JFP VIP with an annual membership or you can Sign up as a monthly supporter. Thanks for anything you can do to empower our journalism!