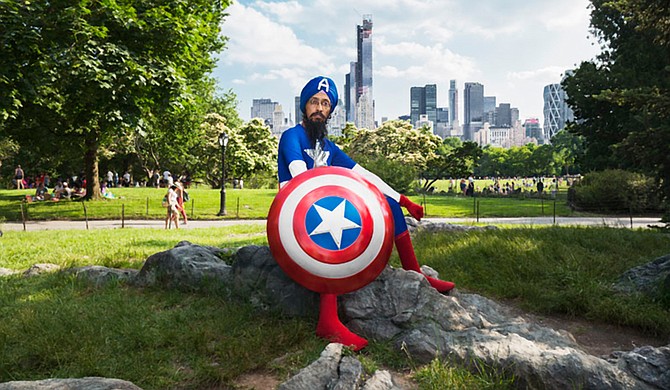 A pair of bright red boots and matching red gloves slide into a dashing blue jumpsuit, admittedly a little short for Vishavjit Singh's long frame. On his chest, red and white vertical bars underline a white star. A letter "A" adorns a blue turban that gives way to his dark curly beard.
As part of a tour that included museum exhibits, film festivals and the 2011 New York Comic Con, software analyst and cartoonist Singh presented a lecture, "Cartoons, Turbans & Superheroes: An American Tale," at the Millsaps College Academic Complex on Sunday, March 1.
Singh was born in Washington, D.C., in 1971, but his family moved back to their native India in 1975. On June 3, 1984, Indira Gandhi, then the prime minister of India, ordered soldiers to storm the Golden Temple in Amritsar to apprehend armed political dissidents; 493 civilians and 136 soldiers died in the six-day conflict.
The conflict heavily damaged the temple, regarded as holy by many Sikhs. Six months later, on Oct. 31, two royal bodyguards, both Sikh, assassinated Gandhi. After the assassination, many Indian citizens participated in a state-orchestrated genocide that targeted Singh, his family and others in the Sikh community. Despite about 2,800 murders and 1,000 displaced people, the Indian government only recognized these mass killings as riots for almost 30 years.
In a retrospective Singh wrote for SikhChic.com, he recalled the days following the prime minister's assassination. After seeing his father on the balcony, a lynch mob assembled outside the government housing where Singh's family lived.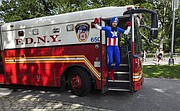 In front of their house that day, a few boys from another family were playing cricket in the yard. The mob began shouting, "Maadar chodh, Sardar!"—which loosely translates to "mother f*cker, Sikh." The boys outside began shouting back. They screamed that the government owned the housing, and that breaking into the house would damage government property. The shouts struck a nerve, and the mob dispersed.
Years later, when he was 18, Singh moved back to America on his own to attend college.
He earned a bachelor's degree in biological science from the University of California, Santa Barbara in 1995 and a master's degree in biostatistics and epidemiology from UC Berkeley in 1999. After graduating, Singh moved to Connecticut and commuted to Columbia University in New York City to earn a technology certificate. Then, on Sept. 11, 2001, everything changed.
"Everyone in the U.S. felt it, but living in and around New York City, you felt it so much more," Singh says.
 "Normal, average people—black, white, Hispanic—they all had these red eyes and anger all projected at me. They don't know I'm a Sikh. They see this evil guy, Osama Bin Laden, wearing a turban, so they think, 'Oh you've got a turban. You must be one of them.'"
Soon, American Sikhs became targets in a growing number of hate crimes. Some of Singh's friends began telling him stories of people chasing them down the highway. Some said that people pulled them off trains—all because they were wearing turbans in reverence to their faith.
When political cartoonists such as Mark Fiore began penning turban-wearing characters to protest the ignorant and misdirected violence, Singh wanted to continue to see Sikhs represented in media. After a couple of years of sketching and a few cartooning classes in New York City, he created sikhtoons.com as a place to post his political cartoons.
In November 2009, Singh had his first art show, which commemorated the 1984 genocide. There, he met photographer Fiona Aboud who had been taking portraits of Sikh doctors, soldiers and families as part her project "Sikhs: an American Portrait."
"Hey, I don't know any Sikh cartoonists," Aboud told Singh later in a phone conversation. "I would love to make you part of my project."
Aboud came to Singh's booth in the 2011 New York Comic Con to take his picture. "I don't think she found a good photograph out of what she (snapped)," he says. Aboud mentioned in passing that Singh should consider dressing up as Captain America.
"No way,'" he told her. For much of Singh's life, bullies picked on him because he was skinny. Being photographed in a costume seemed to ask for ridicule. Surely, he didn't have the confidence, much less the build, to be a superhero.
In August 2012, Singh read a news report about a 40-year-old white supremacist who shot up a Sikh temple in Oak Creek, Wis., killing six people.
"Oh my God! This could be me!" he remembers thinking. "This guy basically walked into a Sikh temple and shot these people. Why? Maybe he thought they were Muslims. Maybe he knew they were Sikh. I think for him it was the countenance—the turban and the beard—that for him just made him think, 'Oh, this is not American. I'm gonna kill them.'"
Singh's determination to accurately portray Sikhs grew stronger, and he even wrote an op-ed piece for The Seattle Times. Singh made the case that America needed a new superhero who fights hate crimes. Singh wanted this hero to be black American or Jewish American or Hispanic American or Asian American—or Sikh American.
A few days after the op-ed ran, Singh received an email from Aboud. "Would you please reconsider your decision?" she asked. "I think you should really step out as Captain America. I would love to do that photo shoot."
Singh agreed, even though the voice in his head was saying, "Dude, don't do it. Don't do it."
Aboud bought Singh a Captain America costume that she found online. She bought a size to fit a teenager because the adult-sized costumes didn't come small enough. Singh put the costume on and looked at himself in the mirror. "I can't do this!" he thought.
Singh bought a set of football pads from a sports equipment store, and when he got home, he bulked-up the costume by shoving the Styrofoam pads to his thighs and shoulders. Looking in the mirror again, he saw his wife, Satpal Kaur, eyeing the pads sticking out from his shoulders.
"You look like a clown with these," Kaur told him. "Just be yourself and go without the accessories."
A few months later, Singh and Aboud went to Central Park to take the photos. Not only did they find themselves in the middle of a Puerto Rican parade, but strangers asked Singh to take a picture with them.
"I felt like a celebrity," he says. "For that eight or nine hours, it was like someone flipped a switch. People saw me differently. That day, it was like a barrier was gone. Everyone was coming over: 'I wanna take a photo with you.' 'Will you get one with my kids?' ... We wanted to change peoples' perceptions, but something to this scale? We didn't expect this to happen."
Photos from the day went viral across the blogosphere. Singh still sees them pop up occasionally on Tumblr. As a result, he began receiving invitations to speak at museums in Los Angeles, universities, public schools in New York City, and he even appeared on FX's "Totally Biased with W. Kamau Bell."
"It has been a dream I could not dream," Singh says. "I would never have imagined putting on a Captain America uniform, and here I am doing it. I love it. It just breaks down barriers. I want people to be comfortable enough to engage me. Let's have a conversation. ... I just feel that one of the major problems is we're not sitting down and talking. So let's have a conversation. You may not like me after we have it, but at least you will know who I am. Yes I am an American. I was born in Washington, D.C., and yeah, I might look different, but we have a lot in common."
Support our reporting -- Follow the MFP.