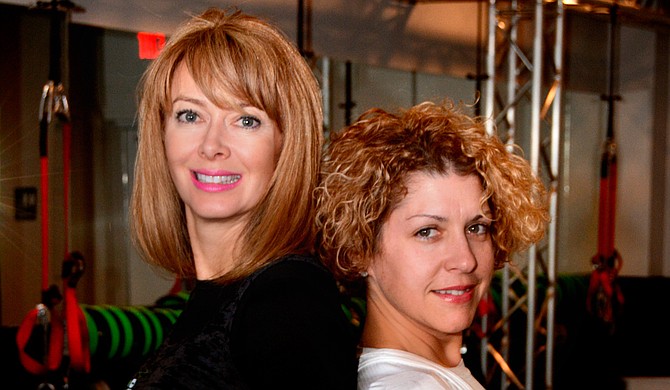 Four years ago and 40 pounds heavier, Denise Moulier came to Guruz Fitness Studio because she wanted to lose some remaining unwanted pounds and prepare for an upcoming triathlon. But beyond nutrition and fitness, Guruz helped Moulier understand a high-performance lifestyle, which is about balance and reaching your highest potential.
Moulier says she felt like a different person after Guruz helped her. "I decided to pay it forward," she says. She joined the Guruz team four years ago, leaving behind a 28-year career in retail. Now, she is the fitness studio manager.
When Moulier came on board, fitness trainer and instructor Lacee Chagnon was still perfecting what Guruz now calls its specialty—merging technology with fitness and becoming masters at guiding clients through their energy zones for maximum efficiency.
"We have fitness down to a science, and everything we do is science based," Chagnon says. "We use body composition testing combined with our physician-monitored weight-loss system and healthy nutrition to help members reach their weight goals. Our weight-loss system combined with supervised exercise in the appropriate heart-rate zone also sets us apart from most."
Guruz's signature classes offer spinning, rowing, boxing, suspension training, weightlifting and body-weight exercises, all in the same space and class setting. Any given workout involves rotating on the selected components. It also offers Reformer Pilates and mat Pilates classes integrated with barre workouts in an adjoining studio separated by a partial glass wall. Guruz's high-performance fitness programs involve high-intensity interval training, which creates excess post-exercise oxygen consumption, better known as afterburn. This means your body continues to burn calories for up to 36 hours after a workout session.
Guruz also offers non-instructor-led virtual classes at the studio. For it, the student wears a heart-rate chest strap, he or she tries to match and maintain the heart-rate zones in the myZone system. The system also displays effort points and calorie burn.
Virtual workouts can be convenient, but participants should experience Guruz Fitness Studio with all the senses. The "State of the Heart" facility is a motivator itself, from the sound system to the lighting, to the shock-absorbing plyometric flooring. The energy of the studio gets you pumped and keeps you moving. The wall-mounted monitors, which display in real time each individual's caloric burn during a class, are also motivating. At the end of the session, the system adds the students' numbers together to show the total class' accomplishment.
Togetherness and paying it forward are contagious at Guruz. First-timer Jamyla Rogers, owner and CEO of J-Stylez LLC, says she was impressed that when a trainer was busy spot-checking for accuracy, other clients jumped in to guide her before the trainer had a chance to.
"This is an awesome class," Rogers says. "I can breathe better, and I just feel rejuvenated."
Class options at Guruz include private individual and small or large group lessons. For more information on Guruz Fitness Studio (6935 Old Canton Road, Ridgeland, 747-666-5326), visit guruzfitness.com.
CORRECTIONS: This story has been edited to reflect factcheck changes. Guruz does not offer reformer and mat pilates, and Pure Barre classes. It offers reformer and mat pilates integrated with barre workouts. Also, the studio does not offer virtual classes outside the studio. The in-studio virtual classes are non-instructor-led and require the participant to wear a heart-rate chest strap and try to match and maintain heart-rate zones in the Myzone system. Jackson Free Press apologizes for these errors.
Support our reporting -- Follow the MFP.