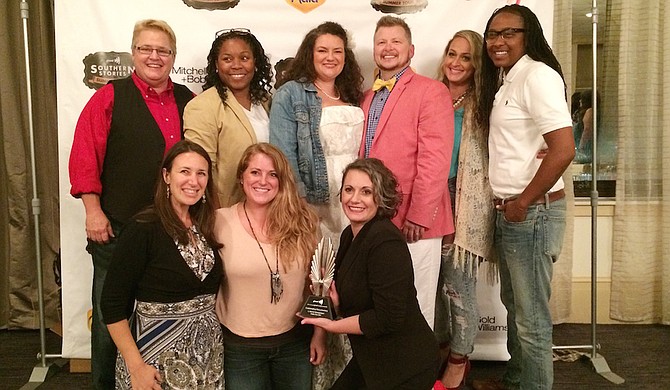 The Mississippi LGBT community is anxiously awaiting a U.S. Supreme Court ruling that could federally legalize same-sex marriage, which would make it legal in the state. The court could hand the opinion down any day now, just in time for "PRIDE" celebrations across the country, including Jackson's own "PRIDE" event on June 26.
GLAAD, an organization that advocates for LGBT representation in the media, began an events tour of the South to raise awareness and advocate for a gap it found between legislative progress and public opinion.
Sarah Kate Ellis, the New York City-based president of GLAAD, said the group scheduled the tour following a Harris poll the organization conducted to gauge public opinion about the LGBT community. The poll revolved around comfort levels, asking 2,300 participants questions such as, "How comfortable do you feel attending a same-sex wedding?" and "How comfortable do you feel finding out that your kid's teacher is LGBT?" Those polled answered questions on a scale from "very uncomfortable" to "very comfortable."
"What we found was that pretty much one-third of America is still very uncomfortable with the LGBT community," Ellis said. "We found that those numbers rose to more like two out of three people in the South."
On June 13, GLAAD hosted a film screening of "L Word Mississippi: Hate the Sin," a documentary that aired last August on Showtime that follows several lesbian couples in the state.
All four of the featured couples in the film joined other members of the Mississippi and Jackson LGBT community at the Hilton on County Line Road (1001 E. County Line Road, Ridgeland) penthouse on Saturday night to watch the film and discuss LGBT progress since the documentary came out.
One cast member, Brandiilyne Dear, a Laurel resident, said that while the LGBT community is winning, there is still work to be done. Even if the Supreme Court rules in favor of marriage equality, in Mississippi, the battles will continue.
"We run the risk of getting married then losing our job or losing our housing, or we still can't adopt children," Dear said. "We've just scratched the surface, and I hope people are not like, 'We won.' We've got to keep them educated and motivated."
Part of GLAAD's purpose in coming to the South was to engage the LGBT community and listen to couples share their stories in order to accelerate acceptance where it is most needed.
"We know that the way that you move acceptance forward is by meeting somebody who's LGBT or hearing someone's personal story," Ellis said.
Support our reporting -- Follow the MFP.