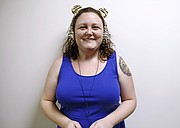 The first time I ever saw a photo of size 22 model Tess Holliday, I couldn't help but remark to myself that she was a terrible role model for young girls.
I posted on Facebook about it, saying how I thought she was a terrible example for positive body image because she essentially promotes obesity. If you just glance at her Instagram, it is filled with many photos of her flaunting her size, remarking how she doesn't care that her arms are big, how she eats whatever she wants, in what she calls the #effyourbeautystandards movement. But to me, it seemed dangerous to promote that when she herself didn't look that healthy.
After I posted the link on Facebook, someone commented that along with all those photos, she also posted a lot of photos of herself working out.
I blinked as if the world had finally come into focus. Then, I went to her Instagram page and scrolled through the photos, and that person was right. With all the modeling shots and photos from her everyday life, Tess also posts many photos of her working with her personal trainer, Mack. This brings an interesting idea to the table: Like the skinny Victoria's Secret models, she has to work to keep her size. Otherwise, she's out of a job, right?
Very interesting, indeed. See, we remark about how the normal models look nothing like regular women. They have to be anorexic or bulimic to keep that size, right? And models like Tess Holliday just do whatever they want and don't care. But do we really know anything about them? Probably not.
Tess, whose real name is Ryann Hoven, was born and raised in Laurel, Miss., where she lived in a trailer park. When she was 4, her family moved to different places such as Florida and Atlanta. In articles, she has estimated that her family moved around 60 times in a few years. She and her brother Tad were young when her parents, Beth and Doug, divorced. When Tess was 9, and Tad was 8, her mother's then-boyfriend shot her twice in the head. Beth survived, but she was partially paralyzed and in a wheelchair for several months. After the shooting, Tess began to gain weight.
At 15, she was a size 16 and 5'4". She auditioned at a plus-sized model casting call in Atlanta and was told that she would be lucky if she got in print or catalog because she was too short and too big. When she was 17, she moved from Mississippi to Los Angeles and at age 24, she became a professional model. She began modeling for fashion company Torrid and, since then, modeled for companies such as Black Cat Bikinis and Batcakes Couture. She was the face of A&E's reality TV show "Heavy," which chronicled the weight loss of severely obese people. She also did a campaign for Benefit Cosmetics and had a feature in Vogue Italia. In 2014, she quit her day job as a receptionist at a dental office in L.A. to pursue modeling full time.
Her #effyourbeautystandards campaign is a way for women to show the world their truest selves.
In the campaign, women take selfies and share their stories about beauty and their bodies.
It's easy to look at Tess and only see her size. She weighs 260 pounds and is currently 5'5". But if you look a little closer, you'll see much more than that. She's a testament to have far we've come and how far we've got to go in terms of accepting everyone for who they are. Even if I personally don't like my weight, it's women like her who make me realize that even though I do need to change my lifestyle, I'm also just fine the way I am. I may not eat that healthy, and I may not wear makeup or fuss with my hair that much, but I'm beautiful just as I'm sitting here typing this editor's note.
We could all use some improvement, right? But it's important to accept yourself where you stand. Treat your body right. Exercise. Eat healthy. Meditate. But also take a really good look in the mirror in the morning. Maybe your eyes are a little puffy, and your hair looks like you stuck a fork in a light socket (I know mine does). Maybe you have a couple of fat rolls around your stomach, or you think you're too skinny. Wherever you are, just appreciate the person looking back at you. Half the battle in life is learning to stop hating what you see in the mirror.
I have to keep that in mind every time I look at the scale these days. I work out early on Monday, Wednesday and Friday, and I'm proud of myself when I go. But then, I look at the scale, and it's the exact same number it was the day before. I always hope it goes down at least half a pound, but it doesn't.
I normally weigh myself each day just because getting an average of the week gives you a more accurate depiction of how much you've lost or gained, but now, I have to grit my teeth and do it every only once in a while.
But then, I always remember this fact: Muscle weighs more than fat. I look in the mirror these days, and even though the scale tells me I'm dangerously close to 200 pounds, I seem smaller. My face has gotten a little skinnier. The change has boosted my confidence and made me appreciate myself more and all the work that I do.
I also remind myself that weight looks different on different people.
While I'm not a size 22, I'm still more susceptible to being heavier because I'm short. My sister is a couple of inches taller but has a skinnier frame. My mom is tall with an athletic build, and I know plenty of women who are shorter than I am but much smaller, and women who are taller but carry more weight.
We all come in different shapes and sizes, but we're all beautiful.
When you look at women like Tess Holliday, or even me, it's important to remember that. And remember that you don't necessarily know what a person is going through. And before you say Tess' size is detrimental to her health, take a look at her everyday life. She works out four days of the week and follows a rigorous diet.
Who cares if her arms are big?
More like this story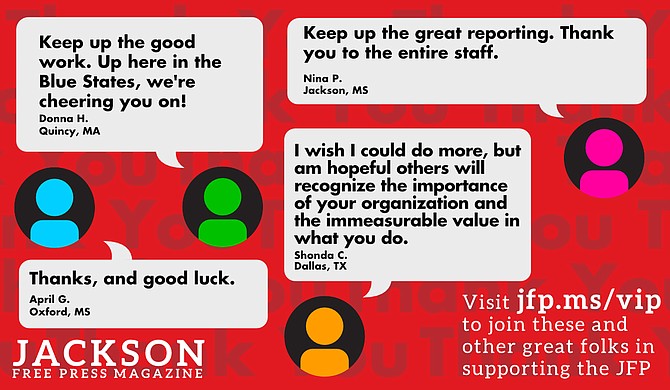 Thanks to all our new JFP VIPs!
COVID-19 has closed down the main sources of the JFP's revenue -- concerts, festivals, fundraisers, restaurants and bars. If everyone reading this article gives $5 or more, we should be able to continue publishing through the crisis. Please pay what you can to keep us reporting and publishing.