Ahead of the primary elections on Tuesday, candidates for state-elected positions gave their annual speeches at the Neshoba County Fair this week.
In the race for governor, the Democratic Party has two candidates hoping to win Tuesday's race: Vicki Slater and Valerie Short.
Education and health care are at the top of both candidates' priority lists, and both spoke to the importance of having a woman in the state's top office—something that has never happened in Mississippi.
Slater said that many of the issues the state government addresses directly affect women, but they are never a part of the conversation.
"Women make most of the decisions in this country when it comes to health care, education, nutrition, and consumer products, so we need more women in government to make sure that things are better for those issues," Slater said.
Short said it is important to run as a woman to be a role model to engage women, families, men, and, in her case, female veterans as well.
"I serve as a role model, particularly in education, for kids of all ages and races and gender because they can see that they too can continue to evolve and continue to inspire and dream," Short said.
Both candidates are in favor of Initiative 42. Short said she believes the state needs to fund the minimum adequate education program it has on the books, and while she understands that it can take businesses three years to turn a profit, it doesn't change the fact that the state hasn't fully funded education for that many years.
"I will be working on the side of education right away, and as governor, I do not have to wait," she said. "I am supporting 42 because that's a lifestyle."
Slater said that the best thing for Initiative 42 is to fully fund the formula, whether that has to be done with a phased-in or timeline-like process.
"The important thing is that we begin to fund it and head in that direction," Slater said.
The Auditor Battle
Republican races for the state auditor and treasurer positions are contested, and the Neshoba County Fair speeches gave the candidates an opportunity to air their views.
The state auditor Republican primary race is between Madison County Mayor Mary Hawkins Butler and two-terms-strong incumbent Stacey Pickering. The two squared off at the fair.
Butler, who spoke first, addressed several aspects of Pickering's track record, including the campaign finance debacle that exposed his use of campaign dollars to pay for cars and a garage door.
"I need to make two things clear," Butler said on Wednesday. "Number one, I do not work for the FBI, and number two, I do not work for The Clarion-Ledger."
Pickering has not publicly admitted that the FBI is investigating his campaign finance reports, but earlier this month, a Laurel woman revealed that the FBI was interviewing her in regards to his campaign spending. Pickering had previously told the AP that he believes Butler is attempting to mislead people about his record before the election, but he has admitted to putting two cars on his campaign finance reports.
Pickering did not respond to Butler's specific jabs, instead reminding voters how Mississippi managed to only have a half percent fraud instead of the higher numbers FEMA predicted during Katrina.
The incumbent candidate also announced that his office recovered $1.2 million last year; the total exceptions report will be released.
"This campaign and this race is all about who's qualified to serve as auditor of Mississippi," he said.
Butler and Pickering are competing for the Republican State Auditor Candidate Seat. Joce Pritchett, the Democratic candidate for state auditor, had another campaign event and did not give a speech at the fair.
Republicans Dig in Their Heels
From rewriting business laws to funding education more than ever in the state's history, Republican candidates with little to worry about in the primaries promoted their cohesiveness as a party at the Neshoba County Fair. By recounting their education funding, job creation and economical gains in the past four years, candidates asked the crowds for their votes on Tuesday, as well as in November.
"There is a bright line of distinction between the Republicans and the Democrats in the House of Representatives," House Speaker Philip Gunn said on Thursday.
Other Republican candidates pulled their party lines together in solidarity as well, citing the progress the state has made in the last four years.
Lt. Gov. Tate Reeves said liberal democrats cannot stand the Republican progress. Gov. Phil Bryant said some people continue to say, "It's not enough" or "Not good enough."
Education spending filled several Republican candidate speeches, with no mention of Ballot Initiative 42 or 42A. The focus stayed on the Republican-led Legislature's ability to fund education higher than ever in the state's history. Bryant and Gunn cited the $2 billion education budget and the additional money used to raise teachers' salaries. Gunn said over half of every tax dollar has gone towards education in the last four years.
"Lack of funding is not the problem with education," Gunn said.
Gunn also called education a Republican issue that the party was taking ownership over in their record-level funding, making the distinction of their method of funding from the Democratic approach.
He encouraged voters to send a Republican to represent their district in the House and was not shy about admitting that leaders are chosen based on if their policy views and values are aligned with Republican interests.
"Since Republicans are the majority (in the House), they dictate policy," Gunn said. "If they send a Democrat to the House of Representatives, their representative is going to be on the sideline watching; he's not a part of the conversation for shaping policy."
Bryant focused on job creation and unemployment in the state, citing the 6.6 percent unemployment rate as the lowest it has been in Mississippi since 2008.
"I had said my first job is to make sure that every Mississippian that wants a job has one, but I've amended that. I want them to have a job even if they don't want one; we'll put them to work," he said.
Reeves said that in the past four years, more than 18,000 jobs have been created in the state. Bryant cited Nissan and Toyota plants as good examples of large businesses providing jobs to Mississippians. Reeves connected the Republican funding of education to the workforce.
"We know the key to prosperity is a strong workforce, and a strong workforce starts with educating our children," Reeves said.
Republican candidates also praised their party's business and economic development.
Secretary of State and incumbent candidate Delbert Hosemann said that he has re-written every business law in the state of Mississippi. He encouraged voters to create or start their own businesses using crowdfunding to "raise up to $2 million dollars anywhere in the world to invest in Mississippi."
Gunn, Bryant and Reeves all pointed to the debt that Democrats left before Republicans took over the top positions in the state government.
"The Democrats cannot stand fiscal responsibility; they can't stand it in D.C. or in Jackson either," Reeves said.
Reeves went on to say that today, the state has a balanced budget. Bryant promoted additional tax cuts if he is re-elected governor.
"I've cut taxes 49 times," Bryant said. "If I get reelected, I will make that an even 50."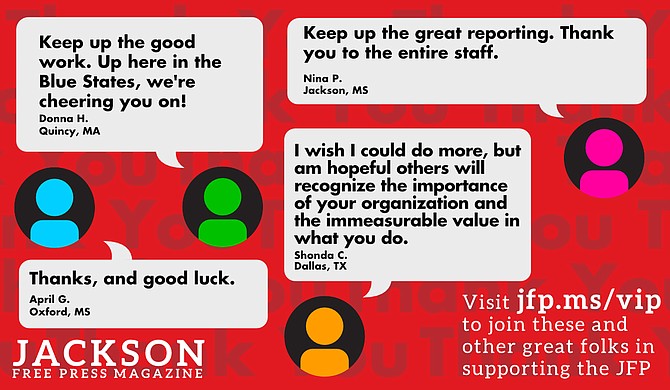 Thanks to all our new JFP VIPs!
COVID-19 has closed down the main sources of the JFP's revenue -- concerts, festivals, fundraisers, restaurants and bars. If everyone reading this article gives $5 or more, we should be able to continue publishing through the crisis. Please pay what you can to keep us reporting and publishing.