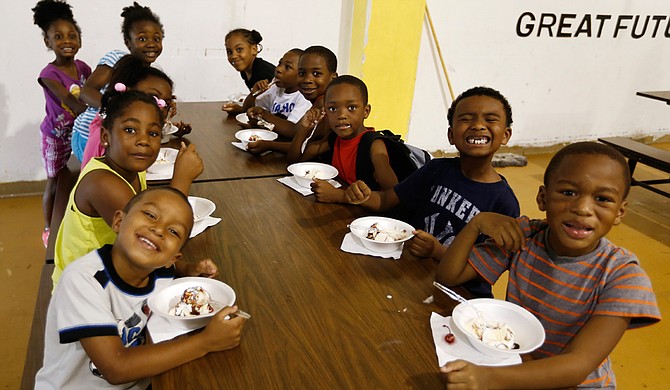 The problem with Mississippi coming in last place in the Kids Count child well-being survey is largely that perception has a big impact on the children experiencing poverty or a family without stable income.
Dr. Margaret Hagerman, a sociology professor at Mississippi State University, has researched how children perceive and understand wealth and inequality, and the results are insightful. The largest outcome of her study? Kids are aware that race, class and inequality exist.
"Kids know when their school is bad or really good," Hagerman said.
Hagerman studied a group of affluent, mainly white children in the Midwest for her research and found what had been proved in communities of color already.
"Even children growing up with enormous privilege understand that inequality exists," she said.
In her study, the children connected race to wealth: white with affluence and black with poverty. Hagerman is curious about how kids in Mississippi think about wealth and inequality, and she is planning to begin that research within a year. Poverty's impact on Mississippi is already clear, though: one in three children live in poverty here compared to one in five nationally.
Natalie Collier runs the Unita Blackwell Leadership Institute, a part of the Southern Rural Black Women's Initiative that specifically targets Mississippi girls and women ages 14-24 who live in the Delta or Hinds County. The institute is a year-long program for 35 females, providing mentors, workshops and sessions during that time.
This year, poverty was one of the topics discussed in workshops.
"We paint a more accurate picture of how poverty happened and the system—that it's not just about being lazy," Collier said.
Collier said the workshops addressed common misconceptions about poverty like believing an education will be your way out, when that might not always be the case with student loans or debt. Collier said education is one of the only ways to bring Mississippi back up off the bottom, but for her, it's less about empowering and more about helping the women realize their own power.
"Just about every time, it is the case that people just don't recognize what they can do until someone comes along and shows them what they can do," she said.
Elusive Early Education Is Vital
The 2015 Kids Count Survey, conducted by the Annie E. Casey Foundation, surveyed economic well-being, education, health and family, and community factors for children in the U.S. Mississippi ranked 50th in all categories, except education in which it ranked 48th. The state held the 50th spot last year, too.
Dr. Linda H. Southward, director of Mississippi Kids Count, a state-based family and children-focused research center, said Mississippi has improved in nine of 16 specific development areas, but not at a rate that would boost the state out of the bottom rank.
"It really is multiple areas that are impacting our rankings, but if you have to point to two, I think education and economic development go hand-in-hand," she said.
At Mississippi Kids Count, Southward said the organization has found that economically disadvantaged children have lower reading levels than their more affluent peers. The Casey Foundation report found that in Mississippi more high-school kids are graduating on time than in 2008, but 12 percent of teens are not working or in school at all.
Southward said a focus on education early in a child's life is important to improving the status of Mississippi's children. Mississippi does have an Office of Early Childhood Education that opened in January and has also started a Pre-K collaborative 4-year-olds program. Southward pointed to these improvements as signs of focusing on a child's education from the beginning—not when it's too late. She also admitted that so far, only 1,800 of the 44,000 4-year-olds in the state were enrolled in the program.
Southward believes the state must make improving children's chances for success a priority.
"We have to start very early, working with families and children," she said.
There are things that communities and families can do at a local level. Southward suggested that communities assess the quality of their early childhood education offerings, explore programs, encourage attendance and make sure kids are reading in the summer.
"Education is clearly an economic-development issue," Southward said.
Until Mississippi can get more children out of poverty with employment for their parents, the educational development will likely stay behind, too.
After-Hours Engagement
After-school programs are one way to combat low educational attainment and create accountability for students. The Boys and Girls Club Walker unit in south Jackson serves nine public schools in the area, running their own bus to go and pick the kids up from school. Tye Tripp, unit director of the Walker branch, said afterschool programs like hers can help reach kids and bring Mississippi up out of the bottom of the ranks.
The Boys and Girls Club runs summer and after-school programs that focus on kids' growth in several areas including: health and life skills, sports and fitness, education and career development, science and technology, and character and leadership.
Because the Boys and Girls Club has access to the students' report cards, they are able to keep track of education progress and attainment for students and offer them additional tutoring services if they need them. Students start each after-school program with a "power hour," which is time dedicated for students to work on schoolwork.
Tripp has only been at her unit for a year and a half, but in that time she has seen the number of students enrolled double. Tripp said her unit is serving more than 200 children. There are a number of Jackson-area after-school programs, but Tripp said more are needed.
"You still have a lot of children not doing extracurricular activities that don't have a place like this to come to after school," she said. "They are just at home doing nothing after school."
Comment www.jfp.ms. Read more about poverty at jfp.ms/poverty.
Support our reporting -- Follow the MFP.