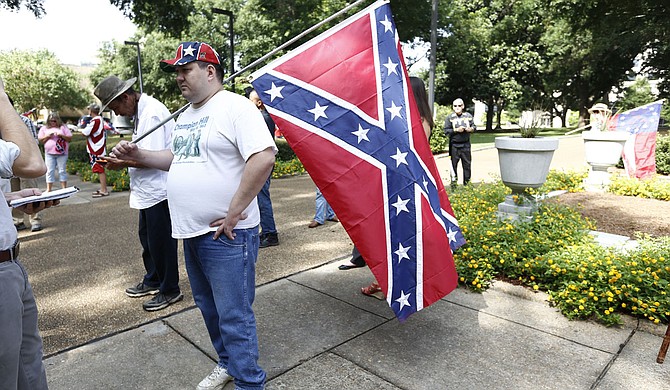 A crowd of more than 50 people gathered on the steps of the Mississippi Capitol this morning, armed with Confederate flags. In their ranks were members of groups such as "Keep the Flag, Change the Speaker," created in opposition to Republican Speaker Philip Gunn of Clinton; and League of the South, a self-styled separatist group that advocates for Southern secession.
These groups and their supporters came together to support Mississippi's current flag, which bears a Confederate emblem that has been a political lightning rod in recent weeks.
Specifically, the state flag has been the subject of a national controversy over whether symbols of the Confederacy should be allowed on government buildings. In 2001, the conversation about whether to change the flag came to a head with a state referendum. The state voted overwhelmingly to keep its current flag, a fact that many at the rally cited often. Fourteen years later, many people are wondering if this vote is still representative of the will of the state. A bipartisan movement that includes Republicans such as Gunn and Jackson Mayor Tony Yarber, a Democrat, is under way.
Troy Aucoin brought his 11-year-old son to the rally because he believes there's a double standard for crimes committed by whites and African Americans. For example, he points to the prosecutions of white students recently convicted of putting a noose around the statue of James Meredith at the University of Mississippi and a young black woman named Bree Newsome who scaled a flagpole near the South Carolina statehouse to remove a rebel flag.
"The little idiot that hung the noose around the statue on the campus—I mean that's stupid. Why would you do something like that? It was just disgraceful, and they locked him up for five years or maybe three," Aucoin told the Jackson Free Press. He was referring to Graeme Phillip Harris, who recently pleaded guilty to a misdemeanor related to the noose incident and could face one year in jail.
"Why is it okay for (Newsome) to climb up and take that flag down? She was arrested and released in the same night. ... All she gets is a few hours in jail? She does a disgraceful act, and he does a disgraceful act. What's the difference?"
Al Roland, who ran for mayor of Jackson in 1993, called the flag controversy tragic.
"A love for your heritage, a love for your past, a love for your ancestors. ... You won't find any other region in the U.S. that is more loyal to their heritage and their flag. I've been flying one of these in my yard since '93. ... I felt an urge to fly it. ... I was running for mayor of Jackson," Roland said.
William Flowers, vice chairman of Georgia's League of the South, disputes the idea that the state flag is offensive.
"The Mississippi state flag is the standard of the people in Mississippi," Flowers said. "All the recent cause to take it down, all the anti-flag rallies they have been having—we simply disagree with that position. We don't believe that you can remove the symbols that are part of their identity and heritage and history without also destroying (those things). We don't feel that our history and our heritage should be relegated to the dark confines of a dusty museum."
Not everyone in the crowd shared the vice chairman's position.
"They talk about heritage. What heritage are they talking about? Apple pies? Or are we talking about the slavery and hypocrisy of the South?" said Kwame Kenyatta, a former deputy to late Mayor Chokwe Lumumba. Kenyatta invoked the television show "Dukes of Hazzard," reruns of which were recently pulled from television because of depictions of the flag. "That's what General Lee and that flag represented. It represented the enslavement of African people. They fought to keep that system in place so far."
Read more about the Confederate flag issue at jfp.ms/confeds.
Clarification: This story previously did not identify Jackson Mayor Tony Yarber as a Democrat who is part of a bipartisan coalition to change the Mississippi state flag.
Support our reporting -- Follow the MFP.