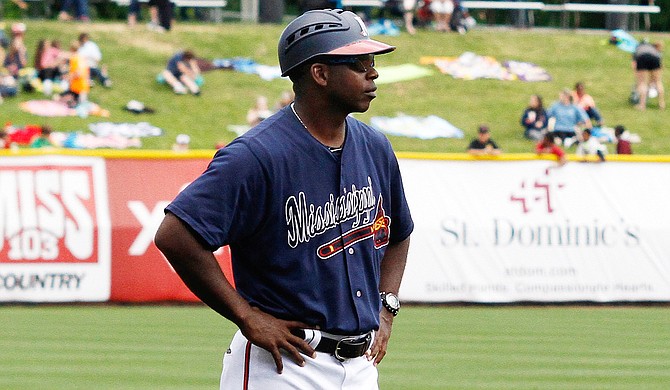 Striking out is not meant to be celebrated.
Aaron Holbert, manager of the Mississippi Braves, should know this. He has been in professional baseball for 25 years.
In August 2005, the then-32-year-old pinch hitter for the Cincinnati Reds whiffed on a 1-2 splitfinger fastball to end the sixth inning in an otherwise forgettable late summer game between the middling Reds and San Francisco Giants.
"That might have been the best strikeout of my professional career," Holbert says. An odyssey ended for him with that strikeout, which occurred in the second game of his MLB career.
The St. Louis Cardinals drafted him 18th overall in the 1990 Amateur Baseball Draft. Scouts took note of the swift-fielding high-school sophomore from Torrance, Calif., two years earlier while evaluating his older brother, Ray Holbert, who ended up playing for teams such as the San Diego Padres, Atlanta Braves and Kansas City Royals. Though thin, Aaron's speed and fielding impressed the scouts. He got called up from Triple-A Louisville days prior and made his major-league debut against the Philadelphia Phillies on April 14, 1996. He rode the bench for four games before finding his name on the lineup card, slotted to bat leadoff and play second base.
"Absolute terror and fear," Holbert says of his state of mind before his debut. "You want so badly to do well. You dreamt about this for so long, and here's your opportunity."
Holbert went 0-3 that day, driving one pitch to the warning track for an out before Hall of Fame manager Tony La Russa removed him in the sixth inning.
The next day, Holbert was sent back to Louisville. La Russa told the 23-year-old prospect, "We'll be seeing you again soon." These parting words proved false, as Aaron never suited up for the Cardinals again. His next appearance on a major league lineup card was September 6, 2005, nine years and 104 days later. That's 4,025 days between major league games, the longest gap of any player since World War II.
"I really thought I'd get back to the majors with no problem after those first five days," Holbert says. But it wasn't so easy.
The gulf that separates the majors from the minors is profound. A player's compensation and support exponentially increases from lower Single-A to the majors. The differences between the highest minor-league tier, AAA, and the majors are vast: hundreds of thousands of dollars a season, upper-deck stadiums, ESPN SportsCenter highlights. The major league minimum salary in 2015 is $507,500, while the average AAA salary is about $25,200. Holbert averaged around $55,000 per season as a free agent.
"I thought maybe I'd get 10 years as a player," he says. "We all dream big, and I thought I'd be an all-star player."
A bitter combination of small injuries and circumstance kept him in Triple A from Bill Clinton's first term to George Bush's second one.
"It seemed like every year I signed somewhere, there was a legitimate shortstop or second basemen manning those positions," Holbert says.
When his Cardinals contract expired, he signed with the Mariners in the spring of 1998. He went on to bat .314 with AAA-Tacoma, but the Mariners had Alex Rodriguez at shortstop, who was then the most talented young player in the sport. With the Boston Red Sox organization in 2000, Holbert spent the year in AAA-Pawtucket as shortstop Nomar Garciaparra blazed his way to a .372 average and the batting title in Boston.
Single season sojourns with the Tampa Bay Devil Rays, Toronto Blue Jays, Miami Marlins and Pittsburgh Pirates provided more realistic opportunities for a call-up, but nothing happened. Hamstring pulls and tears pestered him throughout his career.
"There is some frustration, especially at the AAA level, because you are one step away, and you are constantly seeing guys going up," Holbert says. "You're upset at your own circumstance, the fact that if I were healthy, maybe that'd be me."
As the 1990s turned to the 2000s, front offices began placing a greater premium on power-hitting middle-infielders, a quality Holbert lacked. His homerun total never topped 12 during any of his 16 minor league seasons. When he was drafted, middle-infielders were defenders first, their offensive production a bonus.
For instance, Ozzie Smith, the Cardinals Hall of Fame shortstop (whose injury at the start of the 1996 season paved the way for Holbert's first call-up), hit 28 home runs across his entire career. By Holbert's prime, some shortstops and second basemen were expected to hit 28 homeruns a season, and many of them did. This was at the heart of the steroid era, years when the power numbers ballooned artificially, as did the biceps.
Holbert signed with the Reds in 2004 and discovered what is so rare in the transient minor leagues: a stable community. With the AAA-Louisville Bats, now one of the Cincinnati Reds' affiliates, Holbert played in the same city in consecutive years for the first time since leaving the Cardinals.
Halfway through 2005, Holbert was having his best hitting season in years. By Aug. 16, the veteran was hitting .304. On that mid-August day, rain was delaying the Bats' game when manager Rick Sweet called the team's attention. Holbert, filling the downtime with clubhouse dominoes, hoped Sweet would say the game was cancelled. Instead, he told him to report to Cincinnati immediately. The Reds were playing the Giants that night, and Aaron was needed. Louisville to Cincinnati is an hour and 45 minute drive due north, but for Holbert, the journey to Cincinnati had been anything but short and straight.
He vowed to cherish this second turn in MLB. His wife, Jacqueline Holbert, was watching from the Reds' family section at Bank of America Park. Newlyweds in 1996, Jacqueline did not see her husband play his one game that year.
"My whole reason for grinding and persevering for all of those years was for her to experience that moment," Holbert says.
His first at bat came in the bottom of the fifth. He stood in the on-deck circle, embracing the moment. His head swiveled, eyes canted up. He listened to the din of 17,000 spectators, soaking it all in.
Then, Holbert approached the plate, faced right-hander Jeff Franco, inhaled deep and struck out on four pitches.
Holbert played 22 games the rest of the season, mostly as a pinch hitter, notching six hits and three runs in 27 plate appearances. With each game, his peers showed appreciation for the journey he had made. Teammates like Ken Griffey Jr. and Adam Dunn congratulated his multi-base hits with particular enthusiasm.
"I even had players and staff from the other team saying, 'Wow, good for you,'" Holbert says.
The next season, Holbert was back in Louisville, where management gave him the option of either testing free agency or becoming a coach. He chose the latter, embarking on his second career path as the hitting instructor with the Gulf Coast Reds in 2006. He coached the Rookie League Billings Mustangs in 2007. Then, after managing teams such as the Kinston Indians and Lake County Captains, he became the manager for the Mississippi Braves in 2011.
Four years in with the Mississippi Braves and the same ambition that drove Holbert as a wiry 17-year-old prospect defines his work today: making it to the major leagues. Holbert and his staff strive to prepare each current Mississippi Brave for a roster spot with Atlanta. "Really, the ultimate goal of these players is not to spend the entire year here," Holbert says.
Life in the minor leagues can be a bit like a perpetual first date. You're not always sure where you stand with the people you want to impress. Many begin obsessing over how management views their performance: "Is management happy with me? Am I getting the promotion? Am I getting sent down? I've got a family now, and the salary is low. Is it time to retire from the game I love?"
When one of his players becomes caught up in the anxiety, Holbert leans on his past.
"I hope they understand that I and we as a staff have been through what they're going through," he says. "We ... understand the toil of the minors. We had to battle and scratch and crawl for everything we got."
Just as his players aspire to rise in the baseball ranks, Holbert, too, desires for promotion to the Atlanta Braves. But his route to the Braves will be through his ability to instruct, not play. Coaching could be his avenue to Atlanta's Turner Field.
"Unfortunately, it didn't work out to the degree that I hoped as a player. Maybe this is the way it's going to work," he says.
For more information on the Mississippi Braves, visit milb.com.
More like this story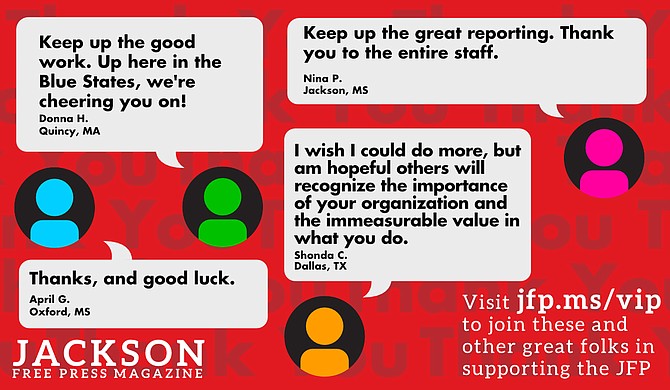 Thanks to all our new JFP VIPs!
COVID-19 has closed down the main sources of the JFP's revenue -- concerts, festivals, fundraisers, restaurants and bars. If everyone reading this article gives $5 or more, we should be able to continue publishing through the crisis. Please pay what you can to keep us reporting and publishing.