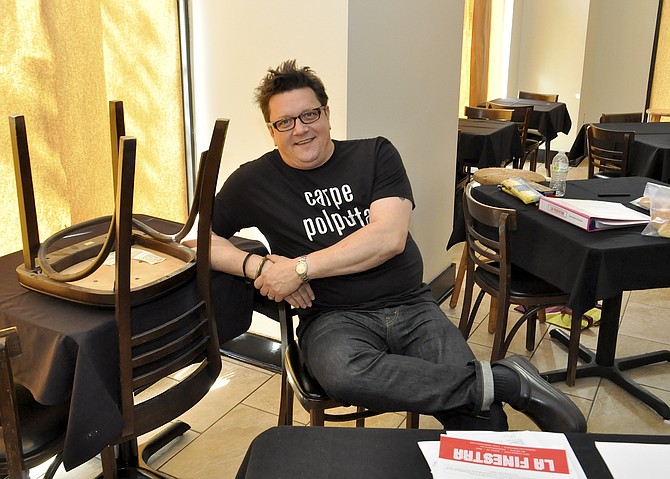 Tom Ramsey, the owner of Jackson's La Finestra restaurant, recently appeared on ABC's "The Taste," which is in its third season. The two-hour cooking competition and reality-television show airs every Thursday at 7 p.m. on ABC.
For each show, there are four teams and four contestants on each team. Each team has a mentor and judge who help guide it throughout the show. The auditions start out with 36 potential contestants with only 16 spots available for the show. Potential contestants prepare a blind tasting of their dish for the mentors to try. If a mentor likes the dish, they request the contestant be on their team. If the contestant has multiple judges wanting him or her on the team, the contestant has the choice of which mentor and team to be on.
The contestants range from professional chefs to home cooks. The show has a three-part competition, and each round is based on a blind tasting. With one single bite, a contestant can be the winner of a round or be sent home.
For his episode, Ramsey was on Anthony Bourdain's team.
What can you tell me about yourself that I wouldn't know from watching the show?
Most everything about me you couldn't tell from watching the show. I'm a little more quiet than you have to be on television. On television you have to be big. You have to be vociferous. When I'm on TV, or when I'm in front of an audience, that's what I do. You get to see the improved version, I guess. When I'm at my house or I'm with my family, I'm relatively a quiet guy. I like to watch television, read (and) sit around. I have a much more boring life than I would portray on the screen.
Tell me about your culinary background.
(I have) no real formal education. I mean, Jackson is full of fantastic chefs. You have guys like Dan Blumenthal, Derek Emerson, Nick Wallace—guys like that whom I would do some events with, and I would learn stuff from them. Anytime I was around those guys, I would just soak it up like a sponge. I did a tremendous amount of reading, and my parents are both really good cooks, so I grew up cooking. But cooking and being a chef are two very different things.
Mike McRee, the owner of Undergound 119, took a chance on me. He threw me into a professional kitchen, and my on-the-job learning kicked in pretty quick. Now I've been cooking for six years professionally. I still have a tremendous amount to learn, but I'm still reading. I'm still learning from my cooks; I'm learning from other chefs. I love to bring in other chefs as guest chefs. I learn a lot from them. If you want to be a great chef, cook with people who are better than you.
What made you decide to audition for the show?
I didn't audition for the show. I got a phone call from a casting agent, and they said, "Hey, we want you to come for an audition." They wanted me to go to Chicago. I said: "I just don't have time, I just opened a restaurant, I'm sorry."
I said "no," and I thought that was the end of it. Then, I got a call back maybe two months later. They said, "Hey, we'd like to set up your Skype interview for your final audition round." So I spoke to my partners in the restaurant and told them what was being offered to me, and (they) said (to) go for it, so I did.
What chef and mentor did you want?
I got picked by three out of the four mentors. I was picked by Nigella (Lawson), Marcus (Samuelsson) and Anthony (Bourdain). I was leaning toward Marcus, and my mind was pretty much made up that I would go with him. Then, Anthony Bourdain kind of challenged me to go with him.
How do you want to be remembered from your appearance on the show?
I'd love to be remembered for showing off comeback sauce as a great product of Jackson, Mississippi. It's mayonnaise, sweet chili. (I use an Asian sweet chili sauce, but a lot of people use a tomato-based chili sauce), Worcestershire and garlic onion powder. You can't go anyplace without finding it here in Mississippi.
In one word, like one bite, describe the experience as a whole?
(It was) educational. It's not so much about what I learned about food, it's about the people and the process and the mechanics, and it was really fascinating. The amount of people it takes to make a show like that, it's mind-boggling just how many bodies there are on that set. Everybody has these very specific jobs, and they really care passionately about that job, and they are working their ass off.
Tom Ramsey's episode of the "The Taste" aired Jan. 1. To see the episode, visit abc.go.com.
More like this story