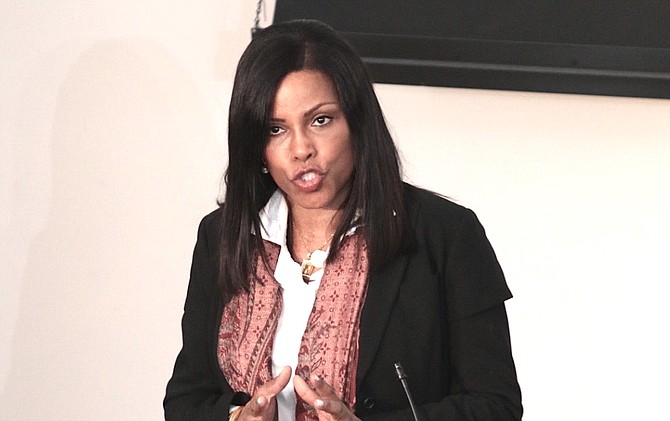 This Thursday, Feb. 19, marks 50 years since the assassination of black-freedom activist Malcolm X. His daughter, Ilyasah Shabazz, challenged students at Jackson State University this morning to "take up the baton" for the rights of African Americans, a press release said.
Shabazz was the keynote speaker for the 2015 Black History Makers Forum, this year entitled "Celebrating the Life of Malcolm X." She was born in Queens in New York City on July 22, 1962. Her parents, Malcolm X and Betty Shabazz, were then followers of Elijah Muhammad, the then-leader of the Nation of Islam, a black nationalist group. They later split with the organization.
The forum marks Shabazz's first time in Jackson and at Jackson State University. During her speech, Shabazz talked about topics such as the moral value of people who would kill unarmed black men.
"What happened to our humanity, to our compassion, to our purpose?" she asked during her speech.
She also spoke of the efforts of Malcolm X, Martin Luther King Jr., Medgar Evers and Nelson Mandela to defend rights for all. She remarked how each laid down his life for the cause and compelled students to keep fighting.
"You are the true leaders you are looking for. ... You are powerful beyond measure, and you must own it," she said.
She also told African American students to do their own research on their history instead of letting others tell their story. "My father said only a fool will allow the enemy to teach its children," she said.
Shabazz was 3 years old when her father died. After his death, she, her mother and her four siblings went to stay with actor Sidney Poitier. Each evening, Shabazz said she would cry when her father didn't come home, but eventually, her mother began leaving a cookie by the door so she wouldn't cry so much. Betty did this because before his death, Malcolm would give her a cookie when he came in the door each night. Shabazz would eat it while he read.
Now a community organizer, activist and motivational speaker, Shabazz has a master's of science degree in education and human-resource development from the State University of New York at New Paltz. She wrote "Growing Up X" and also co-edited books such as "The Diary of Malcolm X" and "Herb Boyd." Along with being the producer of the youth-empowerment program The WAKE-UP Tour, Shabazz is the founder of Malcolm X Enterprises and a trustee of The Malcolm X and Dr. Betty Shabazz Memorial and Educational Center in New York City.