While clues suggest he may run, Sen. Chris McDaniel, R-Ellisville, has yet to release an official statement indicating his intent to seek higher office this election year. Monday night, though, the moderator of McDaniel's support group Facebook page, "Friends of Chris McDaniel for US Senate," changed the name of the page to "Friends of Chris McDaniel for Mississippi Lieutenant Governor."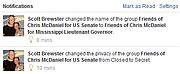 Scott Brewster—Facebook moderator, former McDaniel campaign staffer, and one of the people who officials found locked in the Hinds County Courthouse on the June 3 U.S. Senate primary—replaced the group name just after changing the privacy settings of the group from "closed" to "private."
Brewster also changed the description on the page to read: "Friends, this is a page created by those of us that want a better America and we are convinced that Senator Chris McDaniel is the right person at the right time in this unique American moment to bring our government back to the constitutional principles that made us the greatest nation on earth. This is in no way an official campaign site and we don't speak for the senator here. We are simply concerned Mississippians that are trying to draft a great patriot as our next Lieutenant Governor."
Three hours before the change, McDaniel's political Facebook page published a post reading: "Serious question. What do you think about Tate Reeves qualifying today for re-election as Lt. Gov.??? Do you support him?"
Friends of Chris McDaniel for Mississippi Lieutenant Governor has 4,740 members. Comments expressing support of McDaniel for the position are flooding onto the page.