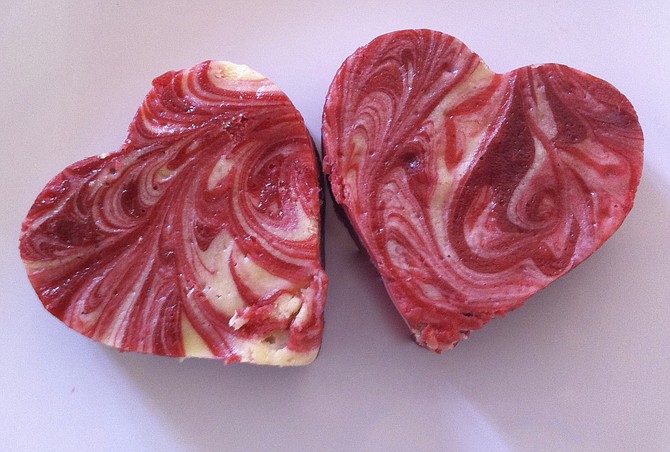 At the beginning of a relationship, love is flirtation and the anticipation you feel every time you spend time with your special someone. The laughter and passion is where the love begins.
For Valentine's Day, there seems to be so much stress with expectations for the exchanging of gifts, when really the holiday is about celebrating love and relationships.
I think it is important to let my loved one know that he is important every day of my life. When Valentine's Day comes, I don't feel so much pressure about giving a gift such as chocolates or flowers, but I like to remind my significant other that he is loved by making a special dinner.
In the past, I would always prepare the same menu of cheese and chocolate fondue for Valentine's Day, but now that I have my children, I try to make Valentine's Day a fun family festivity.
For this holiday, just remember, in the end, all that matters is love.
Cheese Fondue
Don't be scared about the ingredient list; the only thing you need to dip in the cheese is bread. Ingredients such as salami, apples and cheese are
1 clove garlic, halved
1 cup dry white wine
1 tablespoon lemon juice
1 pound Gruyere or Swiss cheese, shredded
3 tablespoons flour
1/8 teaspoon nutmeg
dash of black pepper
Sourdough bread, cubed
Pumpernickel bread, cubed (optional)
1 green apple (optional)
1 stick hard salami (optional)
1/2 pound grapes (optional)
Fondue pan (or a four-quart saucepan)
Directions:
In a large bowl add your shredded cheese with the flour and toss until the cheese is coated. Set aside.
Rub the inside of a fondue pot with the halved garlic clove. Primarily do the bottom and lower half of the pot.
Pour the wine into the fondue pot and heat on your stovetop until hot but not boiling. Then add the lemon juice.
Add the cheese, in handfuls, to the hot wine and stir constantly until the cheese is completely melted. Doing this in small batches keeps the cheese creamy and keeps it from clumping. Add the pepper and nutmeg and serve with cubed sourdough bread.
Serve immediately on a fondue stand. If you are not using a fondue pot, I would recommend warming the cheese on low heat on your stove top as you notice it hardening.
Serves 4.
Marbled Red Velvet Cheesecake Bars
I like to experiment with recipes and have different options for dessert on Valentine's Day. I love the way these marbled red velvet cheesecake bars look and taste. While they require a little more work because of the double layers and the marbling effect, they are well worth every bite. Your loved one will love the effort you put into making them, I promise! You can make the hearts one to two days prior to Valentine's Day. If you are making them in advance, they should be kept in the refrigerator and pulled out one hour prior to eating them.
Ingredients
Red Velvet Layer:
3 1/4 cups flour
2 cups granulated sugar
3 tablespoons cocoa powder
1/2 teaspoon instant coffee
1 teaspoon salt
1/2 teaspoon baking powder
3 large eggs
1 cup vegetable oil
4 tablespoons milk, divided 
1 tablespoon vanilla extract
1 tablespoon red food coloring
2 teaspoons white vinegar
Cheesecake Layer:
2 8-ounce packages cream cheese, softened
3/4 cup granulated sugar
2 large eggs
2 teaspoons vanilla extract
1/4 teaspoon almond extract
Directions
Red Velvet Layer
Preheat oven to 350 degrees and grease a 13-inch by 18-inch jellyroll pan.
In a large bowl, whisk together the flour, sugar, cocoa powder, instant coffee, salt and baking powder and set aside. In a medium bowl, whisk together the eggs, vegetable oil, 2 tablespoons milk, vanilla extract, red food coloring and white vinegar.
Combine your dry and wet ingredients and stir until completely combined. The batter will be really thick and have the texture of moldable clay. Remove 3/4 cup of the batter and place it in a medium bowl. Add two tablespoons of milk to the removed batter you removed and set aside.
Pour the remaining batter into the prepared jellyroll pan. Using a spatula, smooth out the batter to cover the bottom of the jellyroll pan.
Cheesecake Layer
In a stand mixer, beat the cream cheese and sugar until fluffy, about two to three minutes. Add the eggs, one at a time making sure the egg is well incorporated. Then add vanilla and almond extracts and beat until combined.
Pour this cream cheese mixture on top of the red velvet layer and smooth the mixture to the edges.
Using the 3/4 cup of the red-velvet mixture you set aside earlier, drop it by spoonfuls onto the top of the cheesecake layer. Drag the tip of a knife through the red velvet and the cheesecake layers and create your swirl.
Bake for 30 minutes or until the center is set, and it no longer jiggles. Let it cool completely on a wire rack before cutting. Have some fun and use a heart shaped cookie cutter for Valentines Day
Makes 12 large hearts.
Love Martini
This is a special recipe from my friend Susan, who is known for her Valentine's Day parties. The key to a perfect martini is making sure it is properly chilled. If you have room in your fridge, place the vodka and cranberry or raspberry in prior to assembling this drink. Make sure you have plenty of ice for the shaker!
Ingredients
2 ounces vanilla Vodka
2 ounces cranberry or raspberry juice
1 1/2 ounces of Triple Sec
Juice from 1/2 of a lime
Fresh raspberries
2 tablespoons sugar (for rim of glass)
Ice
Directions:
Wet the outside rim of a glass with a lime wedge. Place your sugar on a saucer plate. Take the glass and lay the rim on top of the sugar. Fill a shaker with ice, add vanilla vodka, cranberry or raspberry juice, triple sec and juice from 1/2 of lime. Shake vigorously for 10 seconds. Pour the drink into your prepared glass. Place two to three raspberries in the drink.
More like this story
Support our reporting -- Become a JFP VIP.
The news business has changed dramatically in the past year, and we need your help more than ever to keep bringing you important stories about Jackson and the Metro. Become a JFP VIP with an annual membership or you can Sign up as a monthly supporter. Thanks for anything you can do to empower our journalism!