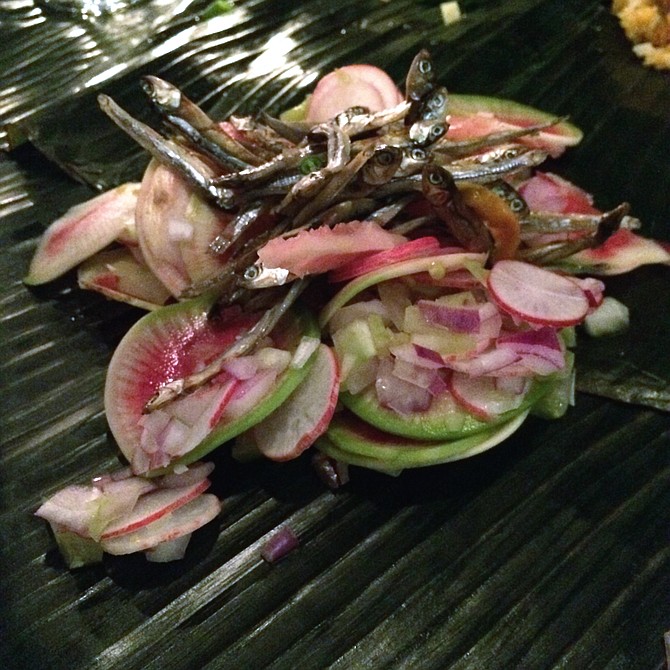 I consider myself a foodie. I'm always searching for new dishes to try. For example, I have an obsession with trying chocolate that has unlikely flavors in it, such as the peppercorn-Parmesan dark chocolate I found at Whole Foods a couple of weeks ago. I want to believe I get pretty adventurous with food, but for the most part, I only try new dishes within the realm of what I already know, due to a lack of accessibility and my own picky-ness.
When I sat down at the long banana-leaf-covered table at La Finestra Jan. 11, I knew it would be a new food experience, but I didn't really know what I was in for. For one thing, Chef Yana Gilbuena had participants sit at long, communal tables and asked that each person try to sit by someone they didn't know. We also weren't using utensils of any kind. Our fingers were our only tool (which isn't good if you're like me and hate being sticky).
Before Gilbuena began her pop-up series, cooking was a hobby for her, though she's been doing it since she was a child in the Philippines.
"I was an only kid, and I was hyperactive," she says. She says her grandmother, Purificacion, "cannot handle my energy, so she would send me to the kitchen to help out with the cooks or sometimes as a form of punishment."
Gilbuena moved from her native Ilo Ilo in the Visayas area of the Philippines in 2004. She lived in Los Angeles for seven years before moving to New York City in 2011.
SALOseries began out of her frustration of not being able to find the right flavors when she cooked. It started out as a chance to educate people on Filipino food, but after Typhoon Haiyan struck her native island in November 2013, SALOseries became her way to give back.
She took the pop-up dinners on the road, heading to a city in each state with a prolific food scene and people she knew. Jackson presented a little bit of a challenge because Gilbuena says she didn't know anyone here, so before she came, she took to Twitter, tweeting with La Finestra a few days before the dinner to set it up.
Gilbuena worked with La Finestra on the menu, which included items such as razor clams, sweet breads and duck. As she does for each pop-up, Gilbuena sourced her ingredients locally. La Finestra owner Tom Ramsey helped her find local produce and meats, and she got pecans from someone's backyard, and her balut (fertilized duck eggs) from Mr. Chen's.
The first dish was Ensaladang Singkamas, a turnip salad with tomatoes, onions, cane vinegar and fried anchovies, and rices made with crab fat and coconut milk. With Ramsey and Gilbuena's OK, attendees dug into the first course. The courses introduced diners to new dishes or twists to familiar ones, depending on how far they had ventured in the food world. The dinner made me think of the many things I haven't tried, yet. For example, I'll probably never try sweet breads again, but I enjoyed new flavors. I even enjoyed the balut (fertilized duck egg). I also enjoyed talking with people I didn't know, something I'm new at doing.
The dinner cost $50. Proceeds from Gilbuena's 50 pop-up dinners go toward the Advancement for Rural Kids organization in the Philipines, which works to rebuild classrooms destroyed during Typhoon Haiyan and teach kids how to grow their own produce. She and ARK's founder, Ayesha Vera-Yu, come from the same island but different provinces, so it was close to her heart. Gilbuena's goal is to raise $5,000 to build a classroom that will sustain itself for three years.
"Where they have these schools that were devastated by Typhoon Haiyan, they actually build a farming and feeding program and, at the same time, rebuild the classrooms that have been devastated so that the children have a place to gather and be educated," she says. "After that, they teach the kids to start growing their own produce. In that way, they're not dependent as a consumer."
When she's done with SALOseries (at press time, she will be in New Mexico), Gilbuena will go to the island of Panay to help build the classroom and work with the children.
SALOseries was the first of a series of pop-up dinners at La Finestra (120 N. Congress St., 601-345-8735, 
eatlafinestra.com). Each will happen the last Monday of each month, tickets are $50, and seating is extremely limited. For more information on Yana Gilbuena's SALOseries, visit thesaloproject.com. For more information on La Finestra's pop-up dinners, find the restaurant on Facebook.
Sweetbreads with Coconut Sauce
Ingredients
1 can of coconut cream
1 can of coconut milk
2 tablespoons sauteed shrimp paste
1 head of garlic
1/4 cup of Thai chillies, chopped
1/2 cup of diced red onions
1 pound sweet breads
1 cup rice
1 cup chopped garlic
1 cup coconut oil
1/2 cup scallions, chopped
Directions
Saute garlic and red onion in the pot with coconut oil until brown. Add coconut milk and cream and stir. Add Thai chillies and sauteed shrimp paste. Bring the mixture to a boil and reduce it. Saute garlic and red onions and add meat. Cover until cooked, then set aside. Cook one cup of rice and set aside. Fry one cup of chopped garlic in one cup of coconut oil until browned. Then, add rice and cook. Add meat on plate, then add sauce. Garnish with 1/2 cup scallions.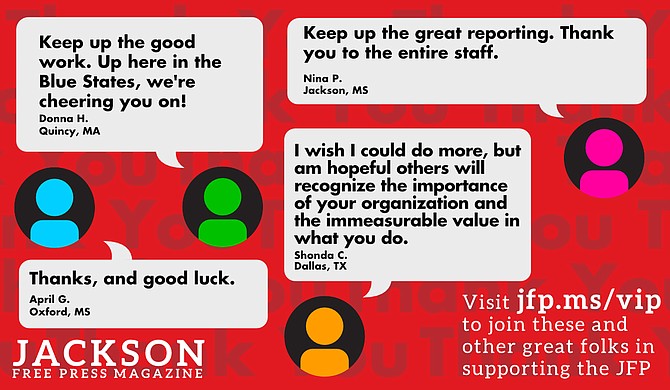 Thanks to all our new JFP VIPs!
COVID-19 has closed down the main sources of the JFP's revenue -- concerts, festivals, fundraisers, restaurants and bars. If everyone reading this article gives $5 or more, we should be able to continue publishing through the crisis. Please pay what you can to keep us reporting and publishing.