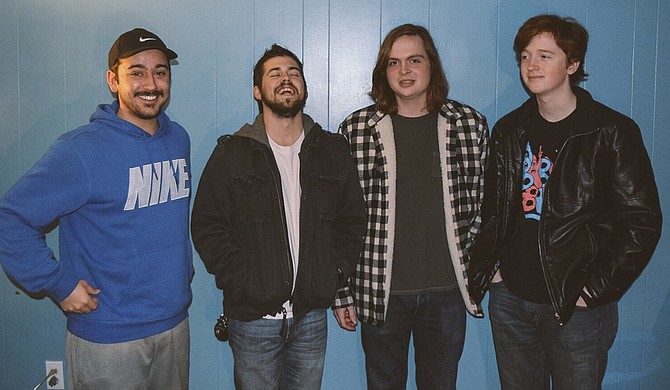 Since the members of psychedelic-indie-rock quartet Fides first met as students at Clinton High School in 2009, they have made it their mission to create music that is serious and thoughtful while maintaining a not-so-serious attitude about life. Lead vocalist and guitarist Reed Smith, bassist Tommy Bobo, guitarist Dean Harrison and drummer Cody Sparkman draw inspiration from classic rockers such as Led Zeppelin and key psychedelic-funk influences from artists like Prince to create the basis of Fides.
Each member of the band began his musical journey in the Attache Show Choir at Clinton High School. Harrison, Smith and Sparkman all performed in the choir's band, while Bobo took the stage as a singer and dancer. Smith says that their love for classic rock and post-rock led them to link up and pursue the music scene seriously.
"We just started getting together and jamming out because we were all together in the show choir," Smith says. "We started booking some gigs, bar cover sets playing rock covers like Zeppelin or blues like B.B. King—just bar music. I think that (show choir) had an impact on our chemistry together. We all learned how to play with each other and make not-so-interesting things interesting. After doing cover gigs, we all started buckling down and began playing original music, because I had a few songs I'd already written."
Fides released its self-titled debut EP in 2013 before hitting the studio to record a full-length record titled "Olive Branch," which they released in February of this year. The album isn't a far leap from the group's first tracks stylistically, but Smith says it offers a more mature sound that includes stronger vocals on songs such as "Press Record" and harder guitar riffs, like that on "Empty Space."
Starting early next year, Smith says the musicians hope to begin recording their next project. He's already begun writing lyrics for the new music, though he says they're searching for the balance between a more psychedelic and emotional rock sound on this next album, which is currently untitled.
"We're going to take a different approach with it—probably do it all live," Smith says.
"(We'll) add a little more raw sound, which I think will compliment these new songs," Bobo says.
Though the musicians have been friends for years, Smith says one of the biggest challenges in progressing as a band is finding time to get together and perform, as three of the members have been embroiled in college courses. Smith is a senior at Delta State University, working toward a bachelor's degree in music industry studies with an emphasis in audio engineering; Harrison is a senior at Mississippi State University, where he is studying industrial engineering; and Bobo graduated from Mississippi College this spring with a bachelor's degree in nursing.
"It's a learning process," Bobo says. "We want to play as many shows as we can, but sometimes, other obligations (like school) come up."
Even though the musicians are scattered across the state, their college ties have actually helped them garner a solid following in college towns, which is something Smith says the band hopes to develop in the coming months.
"We're trying to branch out and broaden our reach," Smith says. "We just want to build up our regional fan base."
Smith says that though the market may be saturated with local acts all trying to be the next great thing out of the Jackson area, he likes the ease that comes with being an independent artist, from lower recording-studio costs to more accessibility for audiences.
"We're doing it for us," Bobo says. "We like it that way."
Fides performs at 10 p.m., Friday, Dec. 4, at Martin's Restaurant & Bar (214 S. State St., 601-354-9712). For more information, find the band on Facebook or fidesmusic.bandcamp.com.
More like this story
More stories by this author
Like independent media outlets around the world, the Jackson Free Press works hard to produce important content on a limited budget. We'd love your help! Become a JFP VIP member today and/or donate to our journalism fund. Thanks for considering a JFP VIP membership or one-time support.