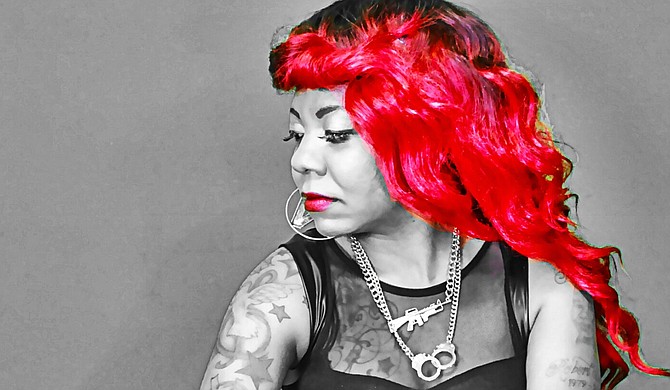 Jackson hip-hop artist Kimberly West, known to her fans simply as K. West, has stayed busy since the release of her debut album, "He Say She Say," in 2012 and her 2013 follow-up, "Married to the Hustle," which featured singles and music videos "I Remember" and "Irrelevant B*tches."
West scored accolades at the Jackson Hip-Hop Awards in January and the Jackson Music Awards in July, earning the title of Female Hip-Hop Artist of the Year from both competitions. Now, she's preparing to ask the capital city a simple question: "Who Is That?"
West recorded her latest single and soon-to-be-released music video, "Who Is Dat," with the help of label K.M.G.O.P., a merging of Jackson-based hip-hop groups Optimo Palace and Kaotic Muzik Group. She plans for the single to appear on her untitled upcoming EP, which is scheduled for an October release.
"I have really matured as an artist. My first album was really personal," West says. "This song and album are about more everyday situations that we all face. I want people to be able to listen to this and think about themselves when they step into any social situation. People see you and only want to know one thing—who is that?"
While longtime fans know that West makes use of both her rap abilities and her singing voice to deliver her signature style and raw emotion, it's not always common knowledge. She says that many people who have listened to her upcoming tracks were surprised to find out that the breathy, soulful melodies and sudden, attacking rap verses both came from the 
same performer.
"People act shocked when they hear the track and hear that it's me singing," West says.
"People didn't know I could sing. It makes my music more diverse and helps me grow as an artist."
Adding to that diversity, West also brought in fellow Jackson hip-hop artists Krissi Dior and Mona Goodie 2 Shoe as featured guests on "Who Is Dat."
"It's not all about me," she says. "I want to help other local artists make a name for themselves, especially the females. Rap is such a male-dominated genre from the bottom level to the top, and I think it's important to show that Jackson women can really bring a lot to the hip-hop genre."
When West releases "Who Is Dat" as a downloadable single on Aug. 22, fans will also be able to a watch a music video for the new track on YouTube.
The video isn't all about showing off West's new, more mature image, either. Several children and families from the area appear in the music video, which she says is just a way to show appreciation to the city that lifts her up.
"I think in the last 18 months, I have shown that I really enjoy what I do. I love performing, but I love involving the community, as well," West says.
"It really means a lot to me to be able to touch so many families in the Jackson community."
K. West's "Who Is Dat" is available Saturday, Aug. 22, on iTunes, Amazon and Google Play. Her previous albums, "He Say She Say" and "Married to the Hustle," are available now on those platforms. For more information, follow her on Twitter and Instagram @kshowstopinwest or like her K. Showstoppin West fan page on Facebook.