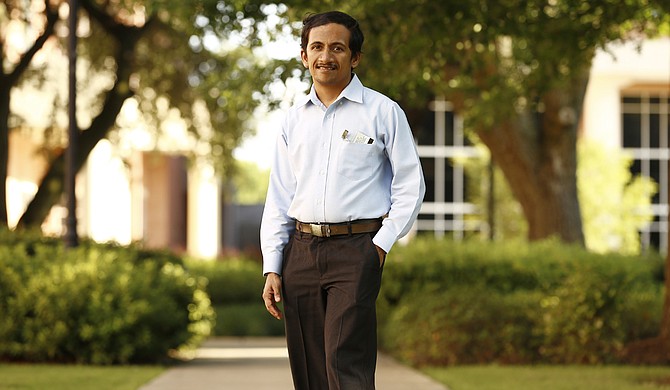 After seeing a computer for the first time as a small child in India, Mahesh Nayak realized he had a passion for technology. He begged for his mother, Prema Nayak, to buy him a computer.
With this passion in mind, Nayak began researching what American universities were the best fits for his studies. After months of deliberation, he decided Mississippi State University was the best choice. So, in 2004, Nayak moved to the other side of the world and began working toward a computer engineering degree. Within his first year, however, he realized that MSU was not his ideal college. That decision led him to continue his studies at Jackson State University in 2007.
Eight years later, he has not departed from the school. Nayak received a master's degree in computer engineering in 2007 and completed his master's degree in technology education in 2014, also from JSU. He is currently completing his doctorate degree in computer engineering at the university.
At JSU, Nayak works as the lab manager and e-content coordinator. In his position, he creates iBooks, which are interactive textbooks that undergraduate students can read from their iPads. His job is all about creating better learning opportunities for students. Nayak works closely with Robert Blaine, the dean of undergraduate studies and cyber-learning, to find better ways to transition the university into this innovative style of learning.
Outside of his work with technology, Nayak is passionate about yoga and meditation, which are both parts of his religious rituals and also part of a healthy lifestyle.
"Yoga and meditation are just two tools that help you have complete control of your body and make it more flexible and your mind, making it completely flexible," he says. " ... What I mean is sometimes, without our control, we tend to get upset. We tend to get depressed, even though we don't want to. I'm just trying to use these tools to ... bring more of our mind control so we can use it more effectively to do what we want in life and go where want in life."
He hopes to share his passion for yoga and meditation with others in Jackson by leading classes at the Lumumba Center.
Nayak left his family behind in India, but their support never waned. In his early days in America, they were his main support system. He attributes technology as the reason he is able to stay close to his family abroad and keep up with Indian culture.
"I always carry the culture and the values represented by India close to my heart, so in that way, some of the lifestyle habits that were taught to me when I was young, I carry them further with me," he says.
Nayak doesn't know what his future in technology will bring, but he is sure that he will continue pursuing his passions.
More like this story