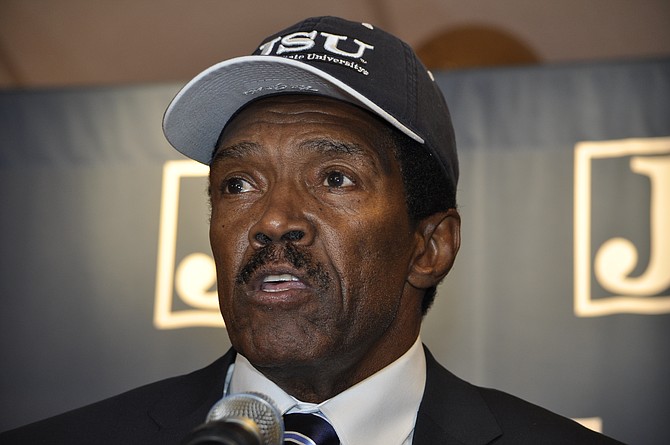 Besides blues music and many other things, Jackson has also had many great athletes come out of it. Here are a few of them. Add more at jfp.ms/famousjacksonathletes.
Harold Jackson is not only the current head coach of the Jackson State University football team; the Hattiesburg native was a player at the school from 1965 to 1968 and a five-time NFL Pro Bowl wide receiver. He became part of the Mississippi Sports Hall of Fame and Museum in 1989.
Walter Payton was arguably one of the best football players ever, and his career took off at Jackson State. Nicknamed Sweetness, the Columbia, Miss. native was the first NFL player to be on a box of Wheaties cereal. Every year, a charitable NFL player receives the Walter Payton Man of the Year award for the player's work off the field. Payton was inducted into the Mississippi Sports Hall of Fame and Museum in 1993, and Jackson State named its recreation center after him: the Walter Payton Recreation and Wellness Center.
Monta Ellis graduated from Lanier High School in 2005. He was the leading scorer for the Dallas Mavericks last season and was given $44 million to sign with the Indiana Pacers this summer.
Former Jacksonville Jaguars wide receiver Jimmy Smith is a legend in Jackson. The wide receiver went to Callaway High School and Jackson State. He won two Super Bowls with the Dallas Cowboys and went to the Pro Bowl five times. One of the only receivers in the Pro Football Hall of Fame that has more career catches than Smith is fellow Mississippian Jerry Rice.
The famous Detroit Lion who wore No. 20 is Barry Sanders, but Lem Barney had success with the same jersey in Detroit a decade earlier than Sanders. Barney went to Jackson State and ended up with seven Pro Bowl selections and is in the Pro Football Hall of Fame. He also sang backup vocals on Marvin Gaye's "What's Going On." The Gulfport native was inducted into the Mississippi Sports Hall of Fame and Museum 
in 1986.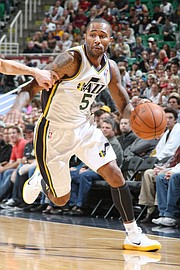 Mo Williams attended Murrah High School and the University of Alabama before being drafted by the Utah Jazz in 2003. Williams played for the Cleveland Cavaliers from 2008 to 2011 and will have a Lebron-esque return to the team this upcoming season.
To see more Jackson and Mississippi athletes, visit the Mississippi Sports Hall of Fame and Museum (1152 Lakeland Drive, 601-982-8264, msfame.com).
Things You Didn't Know But Wish You Did
by Joshua C. Clayton
Jackson is the state capital and the largest city in Mississippi. The city's population is 173,514.
Jackson was founded on a Pearl River trading post in 1821.
Trader Louis LeFleur operated the city, which was first called LeFleur's Bluff.
During prohibition, Jackson was known for its illegal nightclubs and speakeasies on the Gold Coast on the Rankin County site of the Pearl River; the site has a marker on the Mississippi Blues Trail.
In 2009, Forbes magazine named the city the third best "Bang for Your Buck" among the United States' 100 largest metro areas.
Jackson is the only state capital in the U.S. that sits on top of an extinct volcano, the Jackson Dome, under the Mississippi Coliseum (1207 Mississippi St., 601-353-0603).
Jackson is equidistant between Memphis and New Orleans from north to south and between Dallas and Atlanta, east to west.
In 2004, Jackson City Council members voted unanimously to rename Jackson International Airport to Jackson-Evers International Airport in honor of Medgar Evers.
Where Can You Learn More About Jackson?
Jackson Convention and Visitors Bureau (111 E. Capitol St., Suite 101, 601-960-1891)
Smith Robertson Museum and Cultural Center (528 Bloom St., 601-960-1457)
Mississippi Department of Archives and History (200 North St., 601-576-6850)
To add more, visit jfp.ms/jacksonfacts. Visit bestofjackson.com for lots of fun things to do.
Jackson Tidbits
What is your favorite thing about the city?
"My favorite thing about Jackson is that everything I want to do is easily accessible." —Maya Miller
"The people. I've made really good friends here. Also, the food is great." —John Creel
"My favorite thing about Jackson is the great restaurants, mainly the soul-food ones: Gloria's Kitchen, Bully's Restaurant, Mama's Eats and Sweets, Two Sisters' Restaurant etc." —Chloe' Owens
"My favorite thing about Jackson is the downtown area. I like how there's interesting things to do and places to eat within walking distances." —Emerald Alexis Ware
"My favorite thing about Jackson is the bars that are all around town. Every day, there is a new bar with craft beers on tap that I have not tried. My favorite place is Ole Tavern on George Street." —Guy King
"My favorite thing about Jackson would be the people and how no matter where you are, you can always expect to see a friendly face." —Deja Harris
"Jackson continues to grow and thrive despite negative opinions about it." —Nia Wilson
"The local businesses." —Joshua Clayton
"Potholes." —Zachary Oren Smith
*CORRECTION: The "Famous Athletes from Jackson" story has been edited to reflect added information. Lem Barney is from Gulfport; Walter Payton was from Columbia, Miss.; and Harold Jackson is from Hattiesburg. All three of the athletes' careers launched from Jackson. The Jackson Free Press apologizes for these errors. CLARIFICATION: The blurb about Jimmy Smith has been edited to reflect factcheck clarifications. The piece originally made it sound like the Jacksonville Jaguars won the Super Bowl twice; however, Smith was on the Dallas Cowboys team when they won Super Bowl XXVII and XXVIII.
Support our reporting -- Become a JFP VIP.
The news business has changed dramatically in the past year, and we need your help more than ever to keep bringing you important stories about Jackson and the Metro. Become a JFP VIP with an annual membership or you can Sign up as a monthly supporter. Thanks for anything you can do to empower our journalism!