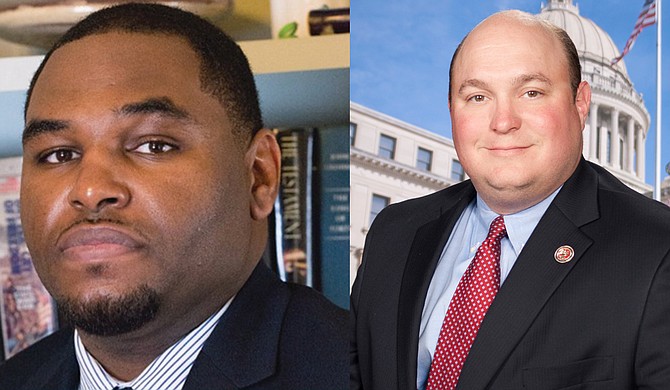 While pundits predict depressed turnout in tomorrow's statewide primary elections, a few Democratic legislative and county races might pique voter interest enough for Hinds County to prove prognosticators wrong.
Perhaps the most interesting battle will take place in House District 66, which in the latest round of redistricting added black precincts to give an African American candidate a shot at winning the seat over the white Democratic incumbent, Brad Oberhousen. Responding to a questionnaire from the Jackson Free Press, Oberhousen touted his experience, saying that his time in office "is important because we have seen Republicans leaders try to rush legislation through in order to take advantage of the new members."
In response, his opponent, Jarvis Dortch—an attorney a program manager at the Mississippi Health Advocacy Program, which raises awareness of the benefits of Medicaid expansion—told the JFP that his experience with health-care advocacy and willingness to take stances on issues like the state flag make him the right person to serve the district.
"If you have streets that are crumbling, if you have schools that are failing, if you have hospitals that are closing, those issues start at the Legislature," Dortch said. "We hold our locally elected officials accountable on a lot of issues in Hinds County, but some of the things they have deal with ... come from the state. We need to start working with our locally elected officials and let them know that the underfunding of our public schools is something that is coming from our Legislature."
Meanwhile, the Democratic primary in House District 70, which includes Belhaven and parts of downtown, might be the legislative race most likely to go to a runoff. There, attorney Sam Begley, consultant Tammy Cotton and longtime community activist Kathy Sykes are squaring off. James "Pete" Perry, the head of the Hinds County Republican Party, is running unopposed in the Republican primary.
"My relationships inside and outside of government allow me to serve as an effective bridge between City Hall and the existing state government leadership, which is currently dominated by the suburbs, in securing support for legislative measures important to Jackson," Begley said in his questionnaire.
"Throughout my career, I have worked well with members of the Legislature, city government, board of supervisors, as well as state-elected officials," Sykes said. Sykes looks toward increasing the living wage, improving the quality of education, police protection, affordable housing and recreational opportunities as primary needs for the district.
Cotton vows to fight to fully fund education, increase health-care access through Medicaid expansion, encourage job expansion and economic development, and be a champion for Jackson.
With state Rep. Mary Coleman running for central-district transportation commissioner, House District 65 is another well-contested Democratic primary race that could conceivably go to a runoff. Running in the election are three business owners—James Covington, Arqullas Coleman (Rep. Coleman's daughter) and Christopher M. Bell.
"Top of my list is to get the state to begin putting more money into the City of Jackson to help with the infrastructure problems we are having," Covington said in his questionnaire. He looks to better funding for education and Medicaid expansion as his district's way forward. "We can't have a healthy economy without a healthy and educated workforce."
For Coleman, issues like Medicaid expansion and access are going to be of paramount important in the coming years.
"When I knock on the door, I ask them, (and) most of them say it's health care and pay raises," Coleman said. "There are a lot of people that work who can't get Medicaid because they make just enough money to not qualify."
Bell said that he supports Medicaid expansion and fully funding the Mississippi Adequate Education Program, as well as a capitol complex plan to help offset infrastructure upgrades in downtown Jackson.
"This will not in and of itself fix the problem, but it puts more responsibility on the Mississippi Department of Transportation to get it done," Bell said in his JFP survey. "There has been a narrative that the City of Jackson is where it is because of mismanagement of funds. The problem with the City of Jackson's infrastructure has been in existence for quite some time. Only recently has it reached a point where it can no longer be ignored. Allowing the state to take responsibility for certain streets within the city kills that narrative. The incentive for the state to accept this responsibility is that it is also taking control over productivity and efficiency of operations conducted within state buildings. It also puts pressure on the state to preserve an area that hosts several historic government buildings and areas."
Read more political coverage and questionnaires at www.jfp.ms/2015elections. R.L. Nave contributed to this story.
More like this story
Support our reporting -- Become a JFP VIP.
The news business has changed dramatically in the past year, and we need your help more than ever to keep bringing you important stories about Jackson and the Metro. Become a JFP VIP with an annual membership or you can Sign up as a monthly supporter. Thanks for anything you can do to empower our journalism!