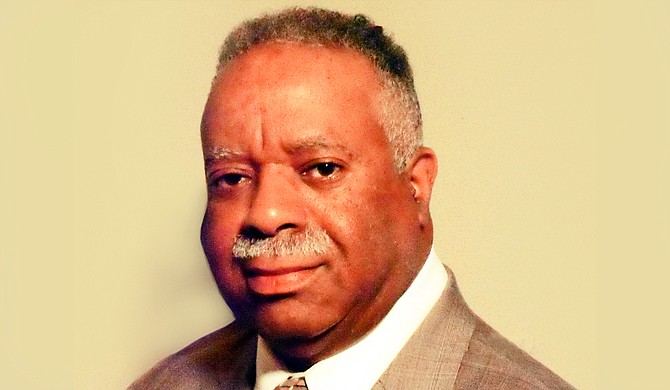 Running for political office against an incumbent is always an uphill battle. It's especially tough when you're a Democrat and that incumbent is Republican Delbert Hosemann, who is running for a third consecutive term. But Charles E. Graham, 59, plans on meeting the challenge as the Democratic candidate for Mississippi's secretary of state office.
Although he was born in Clinton, Graham has been a lifelong resident of Jackson. He graduated from Lanier High School in 1973, in the top 10 of his class. From there, he attended Jackson State University, where he earned a bachelor's degree in accounting. After graduation, he married his high school sweetheart, Alline Washington Graham. They have been together for 44 years.
In 1979, he began a job with the Jackson Fire Department. He worked there for 25 years before retiring as senior deputy fire chief. There he was in charge of training, served as public-information officer, managed a counter-terrorism grant, helped put together the hazardous materials team and even delivered a baby in the field. After leaving the fire department, Graham began AA&E Properties, a home renovation company.
The Jackson Free Press talked to Graham about his vision for the office of secretary of state on one of his days off the campaign trail.
If you are elected, what are some of your goals for the office?
I want to really take my entrepreneurial spirit there. I want to do it better because my opponent seems to have his head in the sand. The reason I am running is because I want to give people the choice. Four years ago, we did not have a choice (because Hosemann ran uncontested). That means (Hosemann) could run his agenda as well as the Republican agenda and never be questioned. I saw the need, and I stepped up to the plate. I am not a career politician.
... Right now, if you ask John Q. Citizen what the secretary of state does, most people can't tell you. But the secretary of state touches everybody. There are two things to remember about him: He is the chief election officer, and he plays a large role in business and commerce.
Let me show you this picture. (Graham holds up a picture on his phone of a home on Longino Street). That's where I held my press conference in Jackson. It's a tax-forfeited property. There are over 2,000 in Hinds County alone. These lower property values and affect the quality of life. That is one way (the secretary of state) touches you and your property values and the quality of life.
As the chief election officer, there have been some snafus, here recently in the special election for county judge when Judge Houston Patton vacated his seat.
(The secretary of state's office) didn't print enough ballots as state law dictated, and when the secretary of state's office was asked about it, he agreed, 'Yes, she did violate state statute. Yes, she did not do her job. Yes she could have influenced the election' but he did nothing about it.
Now let's move 90 miles south to the city of Hattiesburg and the last mayoral election. Now with the incumbent Johnny Dupree, how many times did they have to hold that election? One? Two? Three? And counting.
(Editor's note: Judge Patton did not vacate his seat, but declined to seek reelection. The race to replace him came during the regular election cycle, in November 2014, not via a special election. Also, Hinds County Elections Commissioner Connie Cochran failed to request the legally required number of ballots from the secretary of state's office; the failure was not of Hosemann's office.)
As I run around and talk to people of this state, revelations are coming about of just how—I'm not going to say inept—but how complacent the secretary of state is. But it's not just him. It's the whole Republican ticket.
Right now, the Republicans are in charge of every state department, except the attorney general.
You've had a majority of Republicans in the Senate and you had a majority of Republicans in the House for the last 16 to 20 years. I have to ask myself, where have they gotten us? Last.
(Editor's note: Republicans took control of the Mississippi House in 2011; Democrats had previously held the House since Reconstruction.)
What are some other issues you see at work in the state?
We've got something that was passed by an overwhelming majority of people in the state last year, which was voter ID. How did that come about? It was on the Republicans' dartboard, and they hit a bull's eye. This is not to say that there weren't problems, not to say that we didn't need it, but I believe that there is something else behind that, and that is to dilute voting strength—that is to impede the voting process. That's what I believe. The Voting Rights Act of 1965 had endured for 48, 49 years, but we passed (voter ID) when it was placed on the ballot. We overwhelmingly passed it. It's law. I accept that.
But let's do something else. Let's go one step further. Let's institute early voting like 33 of our other states. If I was a single mother with children, my day starts at about 5:30 a.m. I've got to get up, get myself ready, get the kids up, get the kids ready, off to school—this is even on Election Day. I don't have time to vote! Especially if I live in Jackson, and I work in Flowood. And then when you get off, you've got to pick the kids up, get them home, you've got to get them fed—by then the polls have closed. You're tired. You're worn out. You might have 30 minutes to get to the polls, but you're tired. Are you going to take your children to the poll? Or are you going to leave them on their own? Are you going to pay a lot of money for someone to take care of them?
This is all to say, let's give them early voting. Let's meet (Republicans) halfway. I've seen a lot of failure from the governor, the lieutenant governor, secretary of state, (and) state auditor, and I think it all goes back to that balance. I want to serve and make a difference. I'm tired of being last. I want to put Mississippi first, and that's what I did with my fire department. That's what I did with (my business), and that's what I want to do as secretary of state.
Read more interviews at jfp.ms/2015elections.
Support our reporting -- Follow the MFP.